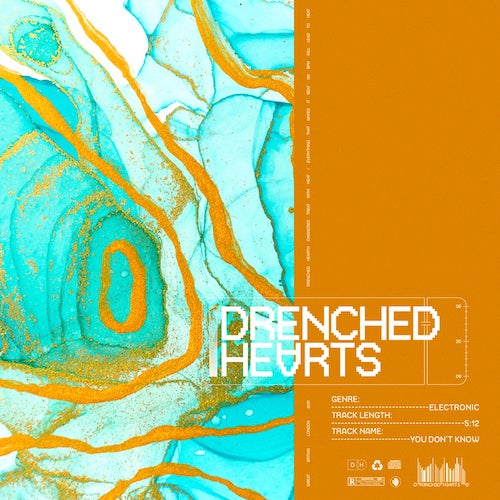 Near the end of August, Drenched Hearts released his debut single "Black Heart" featuring Asha with a remix from Maxinne on WetRightThru. This time around, the artist from London is back on the record label with a piano driven house tune that fuses percussion elements titled "You Don't Know", which also includes a shimmering progressive house remix from Toronto based Simon Doty.
Read on for an interview with Drenched Hearts as he talks about how 2021 has been for him, his initial thoughts on the remix, and artists he'd like to work with!
Hey Drenched Hearts, thanks for your time today! How has 2021 been for you?
Great so far. Having been locked in the studio for most of 2020 its been great to launch the project and get some of the material round peoples ears. The support so far has been great and I've dropped minimal material so far!
How would you describe your sound in three animals, and why those animals?
This is a tough question. The only way I could think of it is like how the progression/hierarchy works in the wild.
Jaguar – These are the warm up/more melodic deeper tracks which you'd hear at the start of a show.
Lion – Then you move into the Lion stage. More energy, bigger tracks in the room but still comes from the same family as the the Jaguar.
Tiger – The Tiger tracks are the big moment tracks. These tracks I write that are for the pinnacle of the set. Main room/peak time.
They're all from the same family – but just have different levels of aggression.
Your debut single "Black Heart" featuring Asha was released last month, and now your second track "You Don't Know" has been put out on WetRightThru. How long were you producing before you felt comfortable to release your music to the world?
I've been writing for years under difference names/difference guises. I read a quote from UK producer Preditah which basically said "before you even start asking people what they think of your music, think 'Do you even like your music'?". It's hit me hard because I realized I was writing tracks for a scene/for gigs but not stopping and thinking "Do I LOVE the record I've just written". That's where Drenched Hearts came from. I LOVE every single record I'm releasing on this project. To me, they have to be legacy tracks that can stand the test of time. If not, then I'm not releasing them.
Also included with your song is a remix by Simon Doty. How did you connect with him and what were your initial thoughts when you heard his version?
I've loved Si for a while. His recent release on AnjunaDeep "Solaris" I just had on loop. I knew because my original was a chunky nod to proper 90s house records that I wanted something in a more slick/progressive direction and Si was my first choice.
I loved his version straight away. It was pretty much done when I heard it…minimal tweaks. That's when you know it's a good remix as he caught the vibe without me even having to say anything.
What does the rest of the year look like for you?
Studio studio studio. There's a lot more work to be done. I'm sitting on around 20 tracks for the project that I'm happy with. But I'll rework and revisit them until they have to be submitted as things move/change/develop. You can open up a project from two months ago you thought was finished and then hear something that needs to be tweaked or stripped. That's the amazing thing about dance/electronic music – it's so ever evolving that its constantly challenging you as a producer.
Best track to play at peak time: Skream – Space Ghetto (Original Mix)
Producer(s) and/or vocalist(s) you'd most like to work with: Lemme give you two: Ross From Friends and Overmono. The new Ross From Friends album is really special and "BBY" by Overmono is my fav track this second. Both in a similar pocket.
Upcoming artist(s) to watch for in 2022: Adryiano. I'm not calling him up and coming as he's far bigger and more established than that…but I love what he does and I want everyone else to be checking his stuff ("NON____STOP").
Take a listen to the song from Drenched Hearts and remix by Simon Doty below and give both artists a follow!
Drenched Hearts – Facebook / Twitter / Instagram / SoundCloud
Simon Doty – Facebook / Twitter / Instagram / SoundCloud