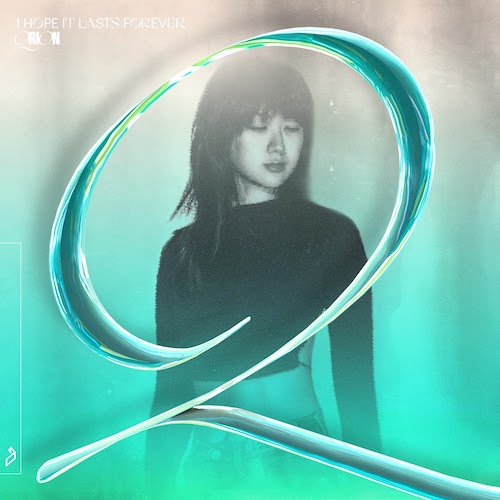 Fresh off of her EDC Las Vegas 2021 set, Japanese DJ and producer Qrion has released her 12 track debut album titled "I Hope It Lasts Forever". The melodic and hypnotizing set was released from Above & Beyond's London based record label Anjunadeep.
With celestial soundscapes, alluring melodies, and captivating vocals, Qrion draws on the memories of her childhood and captures the feelings she felt when she made the move to the United States to further pursue her career in music. "I Hope It Lasts Forever" is one of those albums you can hit 'play' on and take a long drive on Pacific Coast Highway with no destination in mind as it's just you, the music, and the road.
The album from Momiji Tsukada, a native Sapporo now living in San Francisco, includes "Pitch Dark", "Proud", "Jones St.", "Fireworks", "Bright Lights" featuring Flownn (London based singer and songwriter Sophie-Rose Harper), and "Maybe It Was Already Here". Also in the set are "11-11", "Mars" featuring Mars Kasei (Oakland based vocalist, producer, and DJ Marisa Muro), "Never Go Back" featuring KROY (Montreal based singer, songwriter, and composer Cami Poliquin), "Waterfalls", "Your Love", and "It's All Over".
"I connected with my old memories – the feelings of spending time with my dad, the time I lived with my family in Japan, and the small but important moments of my life from my time in Sapporo," states Qrion. "The creative process of this album helped me to mentally connect the dots of my memories through life. Some of which I had forgotten about until I sat down and started reminiscing while working on the music.
She continues: "I feel music often creates a bridge to access memorable parts of our lives and in this sense 'I Hope It Lasts Forever' is a very personal and special album to me. My hope is that my music and this album will also become part of other people's memories – something that people can carry with them into the future."
Be sure to check out the music video for "Proud" which uses retro VHS footage from the Qrion's childhood with a fictionalized day in the life montage taking place in her hometown. The video was directed by Tokyo based filmmaker Umi Ishihara and features contemporary dancer Tsukushi.
A few weeks ago on Above & Beyond's Group Therapy 458, Qrion had the guest mix where she played a few of her new tunes as well as songs from Tony Loreto and Emily Marks, Deeparture, Evgeniy Nuzhnov, and KayCee.
Tracks from the album have already been supported by the likes of Tiesto, Martin Garrix, Pete Tong, Don Diablo, Danny Howard, Qrion, Dosem, TCTS, Judge Jules, Lauren Mia, Solomun, Eelke Kleijn, Grum, Ben Böhmer, Sultan + Shepard, Kyau & Albert, Paraleven, Solarstone, Fatum, James Grant, Vintage Culture, Jody Wisternoff, Anna Lunoe, Tritonal, and Pasquale Rotella.
Qrion – Facebook / Twitter / Instagram / SoundCloud
Flownn – Facebook / Twitter / Instagram / SoundCloud
Mars Kasei – Facebook / Twitter / Instagram / SoundCloud
KROY – Facebook / Twitter / Instagram / SoundCloud
Qrion – I Hope It Lasts Forever (Album) Tracklist:
01. Qrion – Pitch Dark (Original Mix)
02. Qrion – Proud (Original Mix)
03. Qrion – Jones St. (Original Mix)
04. Qrion – Fireworks (Original Mix)
05. Qrion – Bright Lights ft. Flownn (Original Mix)
06. Qrion – Maybe It Was Already Here (Original Mix)
07. Qrion – 11-11 (Original Mix)
08. Qrion – Mars ft. Mars Kasei (Original Mix)
09. Qrion – Never Go Back ft. KROY (Original Mix)
10. Qrion – Waterfalls (Original Mix)
11. Qrion – Your Love (Original Mix)
12. Qrion – It's All Over (Original Mix)
13. Qrion – Your Love (Extended Mix)
14. Qrion – 11-11 (Extended Mix)
15. Qrion – Proud (Extended Mix)