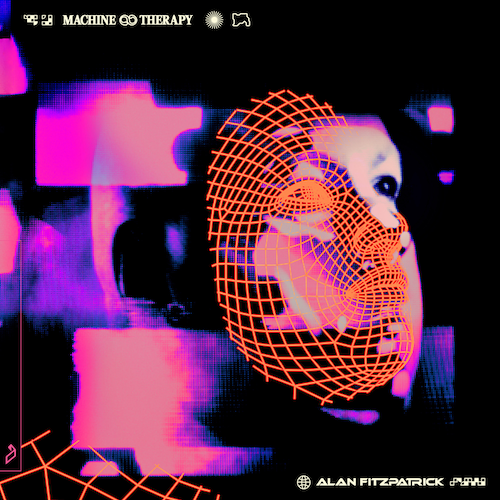 British DJ and producer Alan Fitzpatrick has released his first album in 10 years called "Machine Therapy. Known for his versatility, the Southampton native manages to combine elements of techno, house, breaks, and ambient in the release from Above & Beyond's London based Anjunabeats.
The album consists of "Berlin Morning Calm", "Something Wonderful", "Warning Signs" with Lawrence Hart, "W.A.I.S.T.D" featuring Kele, "Bourgeois Imagery" with High Contrast, "A Call Out For Love" featuring LOWES, "The Sweeper", "Acid Changes Everything", "Cosmic Waves", "Came Home" featuring Catrin Vincent, "Closing In" with Lawrence Heart, and "Unite".
"The time I had in the studio was like a therapy session", explains Fitzpatrick. "Particularly with the pandemic, not knowing what was happening, what the future might look like, what might happen in the scene; being able to get into the studio with no time constraints and just really pour my heart into making music really helped get me through the last year and definitely help keep my mental health in check."
Last week, Fitzpatrick had the guest mix on The Anjunadeep Edition 376 where he played a few tracks from the album.
Songs from the album have been played by the likes of Pete Tong, Danny Howard, Vintage Culture, Eelke Kleijn, Oliver Heldens, Kryder, Gorgon City, Dom Dolla, Judge Jules, Leftwing : Kody, TCTS, James Grant, Eli & Fur, Jody Wisternoff, Paraleven, Gabriel & Dresden, Sultan + Shepard, Deeparture, Mark Knight, Shane 54, Matt Fax, Dosem, Albert Neve, and Pasquale Rotella.
Alan Fitzpatrick – Facebook / Twitter / Instagram / SoundCloud
Lawrence Hart – Facebook / Twitter / Instagram / SoundCloud
Kele – Facebook / Twitter / Instagram / SoundCloud
High Contrast – Facebook / Twitter / Instagram / SoundCloud
LOWES – Facebook / Twitter / Instagram / SoundCloud
Catrin Vincent – Facebook / Twitter / Instagram / SoundCloud
Another Sky – Facebook / Twitter / Instagram / SoundCloud
Alan Fitzpatrick – Machine Therapy (Album) Tracklist:
01. Alan Fitzpatrick – Berlin Morning Calm (Original Mix)
02. Alan Fitzpatrick – Something Wonderful (Original Mix)
03. Alan Fitzpatrick & Lawrence Hart – Warning Signs (Original Mix)
04. Alan Fitzpatrick – W.A.I.S.T.D ft. Kele (Original Mix)
05. Alan Fitzpatrick & High Contrast – Bourgeois Imagery (Original Mix)
06. Alan Fitzpatrick – A Call Out For Love ft. LOWES (Original Mix)
07. Alan Fitzpatrick – The Sweeper (Original Mix)
08. Alan Fitzpatrick – Acid Changes Everything (Original Mix)
09. Alan Fitzpatrick – Cosmic Waves (Original Mix)
10. Alan Fitzpatrick – Came Home ft. Catrin Vincent (Original Mix)
11. Alan Fitzpatrick & Lawrence Hart – Closing In (Original Mix)
12. Alan Fitzpatrick – Unite (Original Mix)