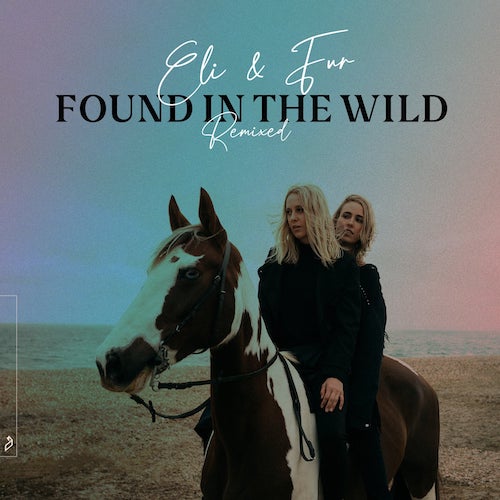 Having released their debut album in "Found In The Wild" from Anjunadeep in June, Eli & Fur now have a nine track remix album to end the year with. Also included in the set is the London based group's club mix of "Come Back Around", a fan favorite from their Found In The Wild Live film broadcast in October.
Featured in the remix album are versions from London based Maya Jane Coles, Los Angeles based Marsh, South Africa native Themba, Sweden native MOLØ, Venezuelan Fur Coat, South African Polar Inc., Italian Francesca Lombardo, and Miami based Ben Yang.
Live act, singer/songwriter, and producer duo Eliza Noble and Jennifer Skillman recently performed a special Hollywood & Vine Sunset DJ Set, where they played songs from their album and as well as tracks from the remix album.
Maya Jane Coles – Facebook / Twitter / Instagram / SoundCloud
Marsh – Facebook / Twitter / Instagram / SoundCloud
Themba – Facebook / Twitter / Instagram / SoundCloud
Eli & Fur – Facebook / Twitter / Instagram / SoundCloud
MOLØ – Facebook / Twitter / Instagram / SoundCloud
Fur Coat – Facebook / Twitter / Instagram / SoundCloud
Polar Inc. – Facebook / Twitter / Instagram / SoundCloud
Francesca Lombardo – Facebook / Twitter / Instagram / SoundCloud
Ben Yang – Facebook / Twitter / Instagram / SoundCloud
Eli & Fur – Found In The Wild (Remix Album) Tracklist:
01. Eli & Fur – Come Back Around (Maya Jane Coles Extended Mix)
02. Eli & Fur – Wild Skies (Marsh Extended Mix)
03. Eli & Fur – Walk The Line (Themba Extended Mix)
04. Eli & Fur – Come Back Around (Eli & Fur Club Mix)
05. Eli & Fur – Wild Skies (MOLØ Extended Mix)
06. Eli & Fur – Broken Parts (Fur Coat Extended Mix)
07. Eli & Fur – Carbon (Polar Inc. Extended Mix)
08. Eli & Fur & Holly Martin – In Too Deep (Francesca Lombardo Extended Mix)
09. Eli & Fur – Fire To Fire (Ben Yang Extended Mix)