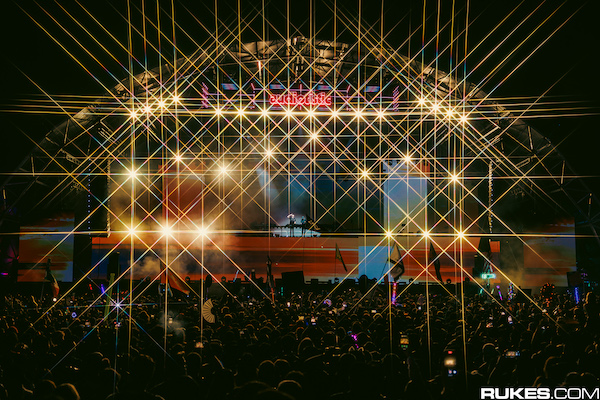 It's that time of year where numerous DJs, record labels, and radio shows put out their End Of Year Mixes that showcase their favorite songs of 2021. Whether it's techno, trance, house, dubstep, hardstyle, hardcore, drum and bass, or anything in between you seek, chances are there's a mix for you.
Listed below are over 55 artists with over 90 hours of music to help you ring in the New Year! Artists such as A*S*Y*S, Above & Beyond, Armin van Buuren, Ben Nicky, Crankdat, Kastra, Kryder, Kutski, Lowdown, Tisoki, Uberjakd, Wax Motif, and more are included. Record labels like Anjunadeep, Big Beat Records, Circus Records, Enhanced Music, Monstercat, Westwood Recordings, and others are represented as well.
Check the bottom of the page for a playlist of all SoundCloud mixes or click here.
Thanks to Rukes for the above photo of SLANDER at Audiotistic last month!
A*S*Y*S – Filter'd 176 December – Best of 2021
A*S*Y*S – Facebook / Twitter / Instagram / SoundCloud
Above & Beyond – Group Therapy Best Of 2021 Pt.1
Above & Beyond – Facebook / Twitter / Instagram / SoundCloud
Alexander Popov – Interplay Radioshow 378 (20-12-21) Year Mix 2021
Alexander Popov – Facebook / Twitter / Instagram / SoundCloud
Andrew Rayel – Find Your Harmony Radioshow #287 – Best of Find Your Harmony
Andrew Rayel – Facebook / Twitter / Instagram / SoundCloud
Anjunadeep – The Yearbook 2021 Minimix
Anjunadeep – Facebook / Twitter / Instagram / SoundCloud
Armin van Buuren – A State Of Trance Episode 1049 – Year Mix 2021
Armin van Buuren – Facebook / Twitter / Instagram / SoundCloud
ARMNHMR – END OF THE YEAR / W4L TOUR MIX 2021
ARMNHMR – Facebook / Twitter / Instagram / SoundCloud
The Aston Shuffle – The Aston Shuffle Presents Only 100s – 2021
The Aston Shuffle – Facebook / Twitter / Instagram / SoundCloud
Bakermat – Bakermat presents The Circus #057 – Year Mix
Bakermat – Facebook / Twitter / Instagram / SoundCloud
Ben Nicky – Yearmix 2021
Ben Nicky – Facebook / Twitter / Instagram / SoundCloud
Big Beat Records – Big Beat Radio: EP #175 – Mahalo (2021 End of Year Mix)
Big Beat Records – Facebook / Twitter / Instagram / SoundCloud
Mahalo – Facebook / Twitter / Instagram / SoundCloud
Circus Records – Circus Mixtape Vol 56 – Doctor P Presents: 2021 End Of Year Special
Circus Records – Facebook / Twitter / Instagram / SoundCloud
Doctor P – Facebook / Twitter / Instagram / Soundcloud
Cosmic Gate – WYM RADIO Episode 403 – Best Of 2021 pt1
Cosmic Gate – Facebook / Twitter / Instagram / SoundCloud
Craig Connelly – 2021 Year Mix
Craig Connelly – Facebook / Twitter / Instagram / SoundCloud
Crankdat – Cranksmas Vol. 3 [11 Crankdat Unreleased / 30+ Friend Unreleased]
Crankdat – Facebook / Twitter / Instagram / SoundCloud
Soul Button – Facebook / Twitter / Instagram / SoundCloud
Wax Motif – HOUSE OF WAX #045 – Best of 2021 Mix
Wax Motif – Facebook / Twitter / Instagram / SoundCloud
Westwood Recordings – Westwood Radio 049 – The Best Of 2021
Westwood Recordings – Facebook / Twitter / Instagram / SoundCloud
Playlist for all 2021 End Of Year Mixes on SoundCloud: