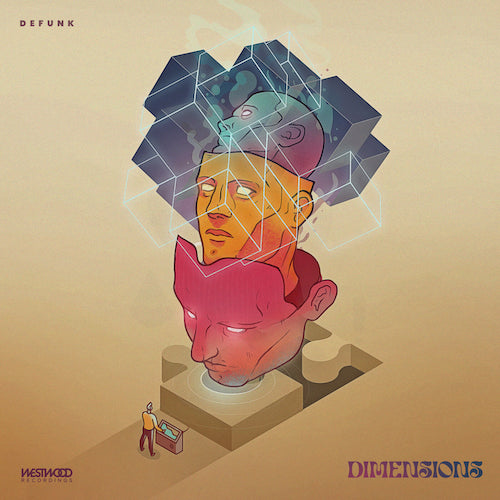 With a bit of wonky bass and a whole lot of funk, Defunk has unleashed his new five track EP called "Dimensions". The Canadian DJ and producer explains that "I was heavily inspired by the wobbles of the 2010-2013 bass music era and wanted to finally put together a release that showcased this early inspiration. Thank you for all the love on the singles so far, I hope you enjoy this release as much as I did making it."
The explosive yet downright groovy EP was released through Vancouver based Westwood Recordings, which Nick Middleton of The Funk Hunters duo launched in 2013. The set consists of "Smokin'" with ZEALE, "Chase The Vibe", "Sorry" with ero808, "Diamond", and "IMMA".
Defunk, also known as Logan Anderson of Calgary, put out a mix called "The Best Bass Music & Dnb of 2021" to round out last year that you should take a listen to if you haven't already. Near the end of 2021, Defunk remixed "Cliffs" by SoDown  and Manic Focus featuring Bailey Flores.
Austin, Texas native ZEALE, whose real name is Valin Zamarron, is part of the Blackillac duo with Phranchyze who were voted Austin Music Award's Best Hip Hop/ Rap in 2020. The group currently is working on an album with four time Grammy Award winner Gary Clark Jr..
ero808, who is Erik Rivera of Boulder, Colorado, recently worked with Shöckface on "Inbetween" and Mixed Signals on "Silence".
Defunk – Facebook / Twitter / Instagram / SoundCloud
ZEALE – Facebook / Twitter / Instagram / SoundCloud
ero8080 – Facebook / Twitter / Instagram / SoundCloud
Defunk – Dimensions EP Tracklist:
01. Defunk x Zeale – Smokin' (Original Mix)
02. Defunk – Chase The Vibe (Original Mix)
03. Defunk x ero808 – Sorry (Original Mix)
04. Defunk – Diamond (Original Mix)
05. Defunk – IMMA (Original Mix)