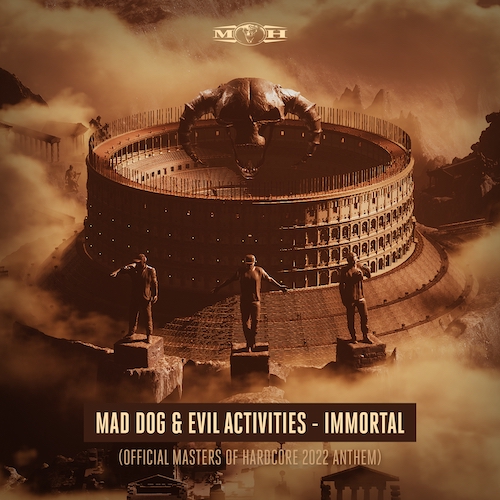 Teaming up to create the Official Masters Of Hardcore 2022 Anthem are Mad Dog and Evil Activities with "Immortal". Featuring heavy kicks and plenty of reverse bass, this high octane tune will definitely get the blood pumping! The energetic track was put out on Dutch record label Masters of Hardcore, which was started by Outblast and King Matthew in the Netherlands in 1995.
A few days ago, Mad Dog and Evil Activities were in the MOH studio for the March 2022 episode of Mayhem. You can check out their special back to back set for Masters of Hardcore Radio on YouTube. Digital Punk also recently supported the tune on his radio show Unleashed 109.
Over the past year, Italian DJ and producer Mad Dog (whose real name is Filippo Calcagni) has put out his "Downtempo II" EP, "Hundreds Of Dogs" with Dave Revan, and his "Downtempo" EP.
Near the end of 2021, Dutch duo Evil Activities (which consists of Kelly van Soest and E-Life Elvis de Oliveira) aired their Yearmix 2021 on their radio show Extreme Audio 100, with tracks like "Shadows" with Korsakoff and "Death By Stereo" to check out as well.
Mad Dog – Facebook / Twitter / Instagram / SoundCloud
Evil Activities – Facebook / Twitter / Instagram / SoundCloud