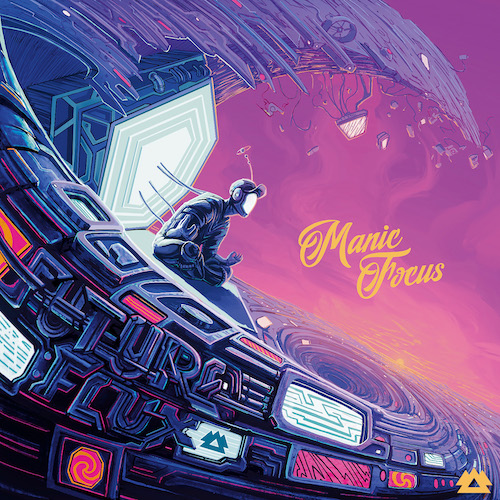 After previously releasing a single from his new EP titled "Future Flux" last month, the whole set from Manic Focus was officially released last week. The Denver based artist has his roots in funk, soul, and new era hip hop, all of which are featured throughout the set. Included in the five track EP from Liquid Stranger's record label Wakaan are "Bonkers" with AHEE, "Back From The Future", "Right To Left" with K+Lab, "Nerve Center", and "Let It Go".
"This EP is an exploration into the heavier side of the Manic Focus vision," says John McCarten. "In recent years, I have performed with many Wakaan artists, and their styles have inspired me to dive deeper into sound design and arrangement to create exciting synths and textures that I haven't previously included in my compositions.
Future Flux is my journey through the heavier side of my mind, and my optimism for mankind's ability to change and grow in a positive way through difficult times. I think it's important to head into the future with optimism, armed with knowledge, balance, and the ability to let go and rage through the moments that hinder our growth as individuals. I had a blast creating these tunes, and playing them live for my fans has been an amazing experience."
Manic Focus has previously performed at the likes of Lollapalooza, High Sierra Music Festival, Camp Bisco, Summer Camp Music Festival,  Electric Forest, Suwannee Hulaween, The Gorge Amphitheater, and Red Rocks Amphitheater.
Manic Focus – Facebook / Twitter / Instagram / SoundCloud
AHEE – Facebook / Twitter / Instagram / SoundCloud
K+Lab – Facebook / Twitter / Instagram / SoundCloud
Manic Focus – Future Flux EP Tracklist:
01. Manic Focus & AHEE – Bonkers (Original Mix)
02. Manic Focus – Back From The Future (Original Mix)
03. Manic Focus & K+Lab – Right To Left (Original Mix)
04. Manic Focus – Nerve Center (Original Mix)
05. Manic Focus – Let It Go (Original Mix)