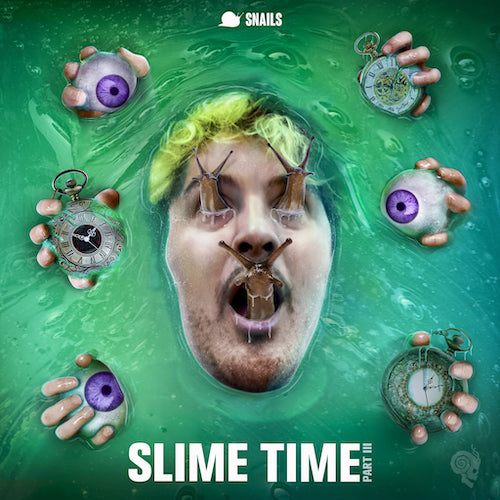 The third and final part of the "Slime Time" EP series from Snails is finally here! Montreal native Frédérik Durand released Part 1 in February 2021 and Part 2 in August 2021, with the entire series being put out on his own record label in Slugz Music. This EP consists of "Everybody Move", "Tekno", and "Feel It", all of which contain his signature vomitstep sound.
Read on for an interview with Snails as he talks about how he would describe his sound in three animals, how his sound has changed since his 2015 "FREETHEVOMIT" EP days, the creative process of "Tekno", and more!
What's up Snails! Appreciate your time with me here. What have you been up to today?
Thank you so much for having me here! Actually was messing around with some bassline and just having fun with resampling technique. I try to come up with music ideas almost everyday to fill up the vault of unreleased music.
How would you describe your sound in three animals, and why those animals? I have a feeling I know what one of those animals might be…
That's funny because a long time ago, I tweeted about how my bassline makes me think of wild animals. I would say first a FROG (duh of course lol), secondly a SQUIRREL (long story behind a song of mine called VMPR) and lastly.. without a doubt a snail.
I've been following you since the "#FREETHEVOMIT" EP days back in 2015. How has your style or production skills changed since then?
Wow, that's amazing to hear! Seriously it's crazy to think that that my EP from years ago is still enjoyed by people. At the time, I wasn't really confident in my sound and would have never thought people would appreciate it that much. Over the years, I tried many styles (dubstep, riddim, etc) and I felt it wasn't connecting with my fans as much as the weirdest sound I was making before. I was also not enjoying making that style of music because I felt it wasn't what got me excited like when I started challenging myself to make something different. I'd say only recently with the Slime Time EP series is how I really went back in the old school sound and technique I used to do to really capture that grittiness and charismatic styles from the past. To be honest, working on this EP made me come back to life personally and I think my day one fans recognized it also.
Your new EP called "Slime Time Pt. 3" was recently released, with my favorite being "Tekno". What was the creative process like for that track and how long did it take until you felt it was finished?
Sick!! Love that song too. The idea of BPM change in a song stems from edits I used to play live. They're the perfect tool to change the mood of a crowd instantly. I knew I wanted a song with that automatic change because it would easily open doors into my set to play more different BPMs. As I always said, SNAILS is about a sound.. not a BPM. I never wanna be attached to one speed and I feel my sound can be adapted in so many ways that it would be way more fun for my fans to surprise my fans sometimes. The creative process of it came from finding the sample on splice, which inspired to me to do something really more techno-ish. Even if the style is zero % techno, I felt it was a fun way to approach the creative side with something saying what the song isn't at all. It's a personal choice, I guess. Since the sample vocal is saying techno, I thought the track should have a more ranged BPM to make it a proper fit. That's where the BPM change came to mine. As often as it happens too, I simply put the bassline at 124BPM and it became the last drop. Ended with a small house drum outro to close the deal.
Anything you can share with us that you having coming up…more songs, festival dates?
Some awesome shows coming this summer! I can't announce yet but definitely looking forward to them and testing all this new music. There's a massive project coming also in May, you wont be able to miss it. Stay tuned for more updates!
Favorite song of 2021: Space Laces – Dominate (Original Mix)
Best track to play at peak time: Excision and Wooli – Lockdown (Original Mix)
Producer(s) and/or vocalist(s) you'd most like to work with: Producers: Eliminate and Effin. Singer: Celine Dion.
Upcoming artist(s) to watch for in 2022: Ray Volpe, Foramic, Rated R
Take a listen to the "Slime Time Pt. 3" EP below and give Snails a follow!
SNAILS – Facebook / Twitter / Instagram / Soundcloud
Snails – Slime Time Pt. 3 EP Tracklist
Snails – Everybody Move (Original Mix)
Snails – Tekno (Original Mix)
Snails – Feel It (Original Mix)