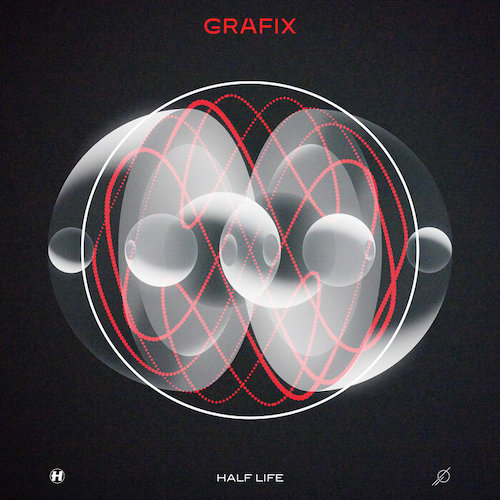 Grafix has dropped his impressive 14 track debut solo album called "Half Life" from Hospital Records. The Bristol based DJ and producer takes us on a journey through drum and bass as he creates high octane dance floor heaters, anthemic vocal pieces, and everything in between. Josh Jackson released his highly anticipated set from the iconic record label that was launched in 1997 by London Elektricity in London.
The versatile album consists of "Feel Alive" featuring Lauren L'aimant, "Skyline" featuring Metrik, "Somewhere" featuring Reiki Ruawai, "Half Life", "Blast Out", "Accelerate", and "Save Me" featuring Chrissie Huntley. Also included are "Radiance", "The Chance", "Synchronic", "CTRL", "Watch The Sky" featuring Lauren L'aimant, "Only Now", and "Way Back".
Last week, Grafix performed a DJ set on UKF On Air where he played songs from the album as well as tracks like his and Metrik's "Overdrive" and their VIP of their previous collaboration in "Parallel", Wilkinson's remix of "Rock It" by Sub Focus, Metrik's remix of "X-Ray" by Sub Focus, Sub Focus' remix of "Easier" by CamelPhat featuring LOWES, and Culture Shock's remix of "Air Plane" by Sub Focus.
Songs from the album have seen early support in sets and radio shows of Fred V, Danny Howard, Rene LaVice, 1991, NGHTMRE and SLANDER, Blanke, and Lens.
London based Lauren L'aimant has collaborated with the likes of Pete K on "Someone That I Used To Know", Marcus Santoro on "Give Into You", and Dezza on "Settle".
Metrik, also known as Londoner Tom Mundell, has been one of my favorite dnb artists over the years with songs like his "Ex Machina" album, his remix of "The Feeling" by DJ Fresh featuring RaVaughn, and his remix of "Dirty" by Dirtyphonics.
Reiki Ruawai is the lead singer of a band called Masaya from Raglan, New Zealand (which also features his sister Kaea Ruwai on the drums), who released "Attention" earlier this year.
Surrey native Chrissie Huntley has performed at O2 Academy Bristol, Glastonbury, UK House of Commons, and BBC 1's Regional News Show.
Grafix – Facebook / Twitter / Instagram / SoundCloud
Lauren L'aimant – Facebook / Twitter / Instagram / SoundCloud
Metrik – Facebook / Twitter / Instagram / SoundCloud
Reiki Ruawai – Facebook / Twitter / Instagram / SoundCloud
Chrissie Huntley – Facebook / Twitter / Instagram / SoundCloud
Grafix – Half Life (Album) Tracklist:
01. Grafix- Feel Alive ft. Lauren L'aimant (Original Mix)
02. Grafix- Skyline ft. Metrik (Original Mix)
03. Grafix – Somewhere ft. Reiki Ruawai (Original Mix)
04. Grafix – Half Life (Original Mix)
05. Grafix – Blast Out (Original Mix)
06. Grafix – Accelerate (Original Mix)
07. Grafix – Save Me ft. Chrissie Huntley (Original Mix)
08. Grafix – Radiance (Original Mix)
09. Grafix – The Chance (Original Mix)
10. Grafix – Synchronic (Original Mix)
11. Grafix – CTRL (Original Mix)
12. Grafix – Watch The Sky ft. Lauren L'aimant (Original Mix)
13. Grafix – Only Now (Original Mix)
14. Grafix – Way Back (Original Mix)