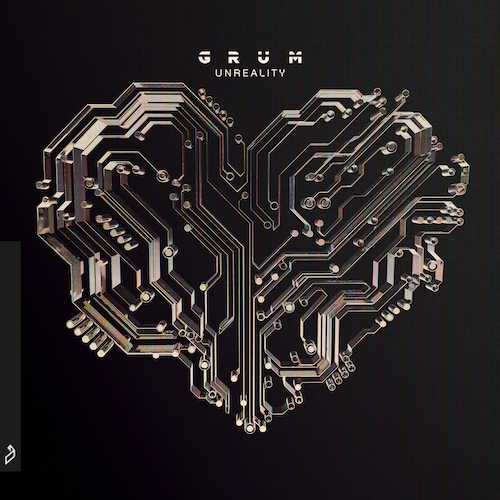 For his fourth studio album titled "Unreality", Grum has returned once again to Above & Beyond's noted record label Anjunabeats. The 14 track progressive house set from the veteran artist is heavy on the synths and includes a few vocal features with some longtime collaborators, along with his first own vocal performance on a track.
The album consists of "Unreality", "Don't Look Down" featuring Natalie Shay, "Faded Memory" featuring Sarah Appel, "Taking Over Me" featuring Natalie Shay, "Only A Dream", "Come Alive" featuring Sarah Appel, and "Be The Horizon" featuring Dom Youdan. Also included in the set are "Last Light" featuring Dom Youdan, "Virtual Companion" featuring Dom Youdan, "Closer Apart" featuring Natalie Shay, "Disconnected" featuring Sealine, "Pattern Recognition", "Look To The Light" (featuring Grum's own vocals), and "Our Cosmic Insignificance".
"This album is a moment in time, directly influenced by the strangest couple of years in modern history," says Graeme Shepherd. "I don't think I could have made it any other way. I hope it connects with you all as much as creating it kept me happy and occupied while everything faded away. I can't wait for you all to hear the full release, and I'm looking forward to sharing more album moments on the Unreality tour."
Grum recently had the guest mix on Group Therapy 488 where he played songs from the album. Further support has come from the likes of Ferry Corsten, Cosmic Gate, Gabriel & Dresden, JES, Ronski Speed, Vintage & Morelli, DIM3NSION, Farius, Bobina, Fatum, Daniel Skyver, Parnassvs, and Pete K.
The Scottish DJ and producer is currently in the middle of his Unreality Album Tour across North America, in addition to a stop at Above & Beyond's Group Therapy Weekender London festival in September.
In 2019, Grum released his second album "Deep State" from Above & Beyond's London based imprint, which featured collaborations with Natalie Shay and Dom Youdan.
Grum – Facebook / Twitter / Instagram / SoundCloud
Natalie Shay – Facebook / Twitter / Instagram / SoundCloud
Sarah Appel – Facebook / Twitter / Instagram / SoundCloud
Dom Youdan – Facebook / Twitter / Instagram / SoundCloud
Sealine – Facebook / Twitter / Instagram / SoundCloud
Grum – Unreality (Album) Tracklist:
01. Grum – Unreality (Original Mix)
02. Grum ft. Natalie Shay – Don't Look Down (Original Mix)
03. Grum ft. Sarah Appel – Faded Memory (Original Mix)
04. Grum ft. Natalie Shay – Taking Over Me (Original Mix)
05. Grum – Only A Dream (Original Mix)
06. Grum ft. Sarah Appel – Come Alive (Original Mix)
07. Grum ft. Dom Youdan – Be The Horizon (Original Mix)
08. Grum – Last Light (Original Mix)
09. Grum ft. Dom Youdan – Virtual Companion (Original Mix)
10. Grum ft. Natalie Shay – Closer Apart (Original Mix)
11. Grum ft. Sealine – Disconnected (Original Mix)
12. Grum – Pattern Recognition (Original Mix)
13. Grum – Look To The Light (Original Mix)
14. Grum – Our Cosmic Insignificance (Original Mix)