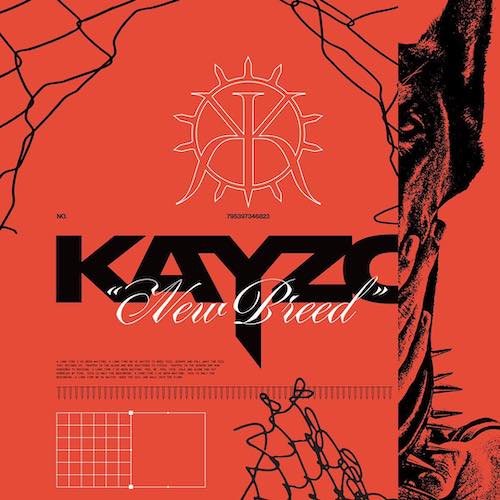 Kayzo continues to blend dance music and rock in his third album out now called "New Breed". Released from his own imprint he launched in 2018 in Welcome Records, the set contains 20 tracks, 19 featured artists, and 15 collaborations. The day before the release, Kayzo revealed that the album has been two years in the making and thanked all those involved for their support.
"This is for all the people out there that don't fit into a box", said Kayzo. "This is for the up and coming artists. You can make anything you want. Thank you for giving me the time I needed to give you this record. I love u all so much."
The album consists of "Underground", "Cyber Dethh", "The Sickness" with Ghøstkid, "War" featuring OST, "Meet You In The Sound" with PhaseOne featuring Aaron Pauley, "Gateway" with Jiqui, "Dead Awake" featuring Banshee, "Burn it Down" with ATLiens featuring Adam On Earth, "Newsflash" featuring Kamiyada+, and "Moonlight" with Siiickbrain.
The set also includes "Poser" featuring conner, "Love Me Hate Me" featuring DE'WAYNE and Cray, "Bottle Of Rain" featuring POORSTACY, "New Breed", "Sht Show", "Lost My Way", "Crown of Thorns" with Blosso featuring BVLVNCE, "Waste Away" featuring Kala, "Save Me" featuring SpaceMan Zack, and "Make You Miss Me" featuring Seon.
Los Angeles based DJ and producer Heyden Capuozzo debuted his new album during his set at EDC Las Vegas near the end of May. In 2018, Kayzo released his debut album "Overload" from his record label.
Kayzo – Facebook / Twitter / Instagram / SoundCloud
Ghøstkid – Facebook / Twitter / Instagram / SoundCloud
OST – Facebook / Twitter / Instagram / SoundCloud
PhaseOne – Facebook / Twitter / Instagram / SoundCloud
Aaron Pauley – Facebook / Twitter / Instagram / SoundCloud
Jiqui – Facebook / Twitter / Instagram / SoundCloud
Banshee – Facebook / Twitter / Instagram / SoundCloud
ATLiens – Facebook / Twitter / Instagram / SoundCloud
Adam On Earth – Facebook / Twitter / Instagram / SoundCloud
Kamiyada+ – Facebook / Twitter / Instagram / SoundCloud
Siiickbrain – Facebook / Twitter / Instagram / SoundCloud
conner – Facebook / Twitter / Instagram / SoundCloud
DE'WAYNE – Facebook / Twitter / Instagram / SoundCloud
Cray – Facebook / Twitter / Instagram / SoundCloud
POORSTACY – Facebook / Twitter / Instagram / SoundCloud
Blosso – Facebook / Twitter / Instagram / SoundCloud
BVLVNCE – Facebook / Twitter / Instagram / SoundCloud
Kala – Facebook / Twitter / Instagram / SoundCloud
SpaceMan Zack – Facebook / Twitter / Instagram / SoundCloud
Seon – Facebook / Twitter / Instagram / SoundCloud
Kayzo – New Breed (Album) Tracklist:
01. Kayzo – Underground (Original Mix)
02. Kayzo – Cyber Dethhh (Original Mix)
03. Kayzo & Ghøstkid – The Sickness (Original Mix)
04. Kayzo – War ft. OST (Original Mix)
05. Kayzo & PhaseOne – Meet You In The Sound ft. Aaron Pauley (Original Mix)
06. Kayzo & Jiqui – Gateway (Original Mix)
07. Kayzo – Dead Awake ft. Banshee (Original Mix)
08. Kayzo & ATLiens – Burn It Down ft. Adam On Earth (Original Mix)
09. Kayzo – Newsflash ft. Kamiyada+ (Original Mix)
10. Kayzo & Siiickbrain – Moonlight (Original Mix)
11. Kayzo – Poser ft. conner (Original Mix)
12. Kayzo – Love Me Hate Me ft. DE'WAYNE & Cray (Original Mix)
13. Kayzo – Bottle of Rain ft. POORSTACY (Original Mix)
14. Kayzo – New Breed (Original Mix)
15. Kayzo – Sht Show (Original Mix)
16. Kayzo – Lost My Way (Original Mix)
17. Kayzo & Blosso – Crown of Thrones ft. BVLVNCE (Original Mix)
18. Kayzo – Waste Away ft. Kala (Original Mix)
19. Kayzo – Save Me ft. SpaceMan Zack (Original Mix)
20. Kayzo – Make You Miss Me ft. Seon (Original Mix)