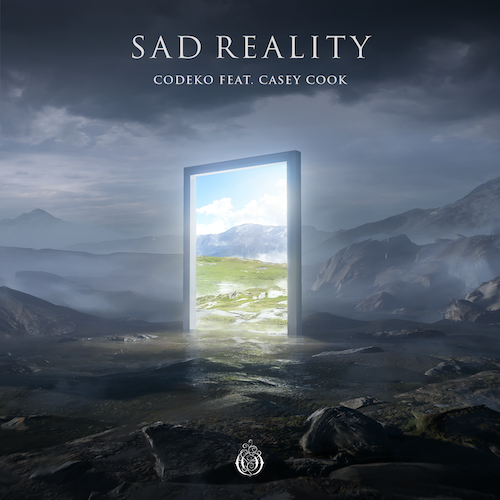 If you've been listening to sets or radio shows from Codeko over the past couple of years, his next release in "Sad Reality" featuring Casey Cook might sound familiar to you. Over two years since it was first heard, the melodic bass track has finally been released. The soaring melodies from Londoner Ed Clark and captivating vocals from Los Angeles based Cook blend seamlessly together in the song from Ophelia Records, which was launched by Seven Lions in 2018.
Read on for an interview with Codeko as he talks about how he would describe his sound in three animals, the main inspiration behind his latest track, why he decided to release the song after two years, and more!
Hey Codeko, thanks for your time today! What have you been up to today?
I was just doing some work on an unreleased collab this morning which is going to be a good one! Now switched over to some set prep for a festival I'm playing this weekend in San Fran.
How would you describe your sound in three animals, and why those animals?
A tough question! Golden retriever – accessible, friendly. Chameleon – it changes quite a lot. Seals – I just like seals.
"Sad Reality" is the title of your latest track featuring Casey Cook. What was the main inspiration behind your latest single?
I was listening to a lot of singer/songwriter type music at the time and I think that came across strongly in the verse – very acoustic and warm. However I wanted to be able to play it out live so it became a puzzle of how to get the two aspects to work together – and i'm super pleased with how it turned out!
How did you connect with Casey Cook for the vocals on the song?
I had previously worked with Casey when I was writing my track "Crazy" with Wooli – she did a great job on that track so I reached out to work with her again!
It looks like you've had the tune in your back pocket for a while now, as it's been heard in a few of your Musical Freedom Radio Residency episodes in 2020. Why do you feel now is the perfect time to release it?
I think in 2020 I hadn't quite finished it so was still fleshing it out. But we'd been looking to put it out for over a year but other stuff kept on getting in the way and pushing it back. So I'm very glad to finally get this one out – in time for getting back on tour for the rest of the year!
Favorite song of 2022: Reviver – Lane 8 (Original Mix)
Best track to play at peak time: In my current set it would be Superhuman – Codeko & Tritonal (Extended Mix).
Producer(s) and/or vocalist(s) you'd most like to work with: Gryffin
Upcoming artist(s) to watch for in 2022: Synymata
Take a listen to "Sad Reality" by Codeko featuring Casey Cook below and give the artist a follow!
Codeko – Facebook / Twitter / Instagram / SoundCloud
Casey Cook – Facebook / Twitter / Instagram / SoundCloud