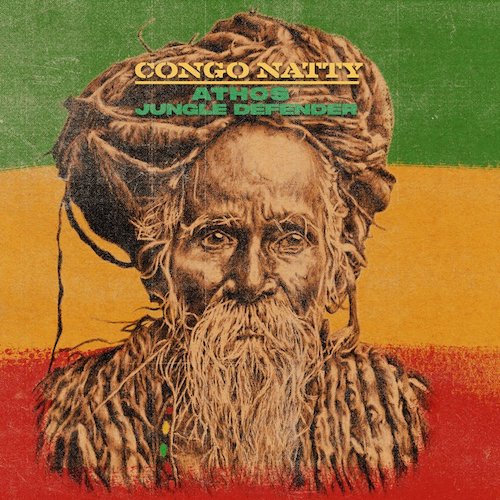 With the release of "Athos" and "Jungle Defender", Congo Natty has announced his "Ancestorz (Rootz Of Jungle)" album set to be put out on NewState in August. It has been nine years since Mikail Tafari, who is from Broadwater Farm, Tottenham, North London, released an album called "Jungle Revolution" from Big Dada. The new album from the London based imprint will continue to explore the depths of jungle, drum and bass, reggae, jazz, hip hop, and more.
"Congo Natty returns with 'Athos', a collab with DJ and producer Fleck that makes for a sound system ready smash, weaving rippling jungle breakdowns amongst lyrical assaults from Lij Tafari, live instruments and keys. Meanwhile, 'Jungle Defender' moves to calmer waters with son of the melodica and dub king, Augustus Pablo – Addis Pablo on melodica duties with tribal flutes and strings that flow over rhythmic drums and rumbling subs."
Previous tunes of his have been supported by Skrillex, Dirt Monkey, Ganja White Night, Chase & Status, Sub Focus, Flava D, S.P.Y, A.M.C, Tropkillaz, and Annie Mac.
Congo Natty – Facebook / Twitter / Instagram / SoundCloud
FLeCK – Facebook / Twitter / Instagram / SoundCloud
Lij Tafari – Facebook / Twitter / Instagram / SoundCloud
Addis Pablo – Facebook / Twitter / Instagram / SoundCloud
Congo Natty – Athos / Jungle Defender EP Tracklist
01. Congo Natty & FLeCK – Athos ft. Lij Tafari (Original Mix)
02. Congo Natty – Jungle Defender ft. Addis Pablo (Original Mix)