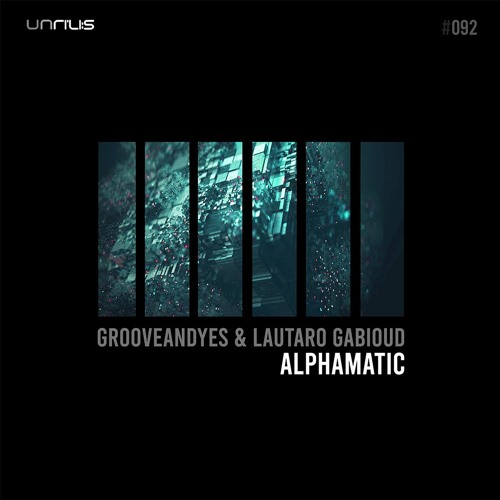 Returning to Unrilis with another EP are Argentinean artists GrooveANDyes and Lautaro Gabioud with "Alphamatic". Included in the set are entrancing techno tunes "Alphamatic" and "Out Of This World", as well as intro mixes of each song. The EP was released by the Italian record label which was launched in 2005 by Rino Cerrone and Mario Manganelli and is based in Naples. The guys released "Space Material" last October from Unrilis.
"Unrilis is our home, we are very happy to release music here again," says GrooveANDyes. "After the success of Space material and big supports from a lot of artists, here we present Alphamatic with a much harder sound, we have changed a little bit compared to our latest release but the combination of our two hearts made new tracks for the history of releases of Unrilis."
Barcelona based Augusto Rivarola has been heard on lables such as Bassics Records, Baikonour Recordings, XTR records, and RH2.
Rosario based Lautaro Gabioud's songs have been released on imprints like Reload Records, Cerebro, Infekted Records, and Black Kat.
GrooveANDyes – Facebook / Twitter / Instagram / SoundCloud
Lautaro Gabioud – Facebook / Twitter / Instagram / SoundCloud
GrooveANDYes & Lautaro Gabioud – Alphamatic EP Tracklist:
01. GrooveANDyes & Lautaro Gabioud – Alphamatic (Original Mix)
02. GrooveANDyes & Lautaro Gabioud – Out Of This World (Original Mix)
04. GrooveANDyes & Lautaro Gabioud – Alphamatic (Intro)
04. GrooveANDyes & Lautaro Gabioud – Out Of This World (Intro)