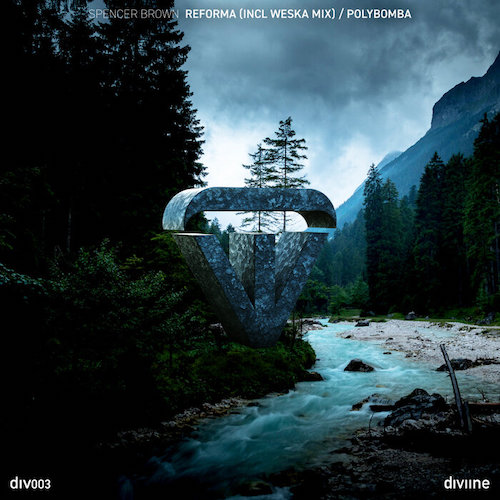 Earlier this year, Spencer Brown launched his own record label called diviine with the release of his EP titled "Forbidden Flow / 18 Min Loop", the latter of which is literally an 18 minute long track. For the third release from the imprint, the San Francisco based artist has put out another EP in "Reforma / Polybomba". Heavy on percussion and drum elements, the set also includes a remix of "Reforma" by Toronto native Weska.
Brown says that "The third release on diviine showcases my darker side. 'Reforma' is a groove tool that has been exploding in my sets. It was first debuted in Chicago, and the crowd reaction blew me away. The main sample along with the drum fill are both me playing the drums! 'Polybomba' is a progressive indie-dance leaning stomper. I opened my massive diviine inspirations show in San Francisco with this track, and it's been a highly requested ID since then. Both tracks fit perfectly on diviine as "chill bangers" with creative freedom."
On having Weska remix "Reformna", Brown states that "I've looked up to Weska as a producer for years. My most played track on Spotify in 2019 was Weska's "EQ64." During the pandemic, we became friends and worked on a few collaborative ideas (all unreleased at the moment). It's truly an honor to have him as the first remixer ever on diviine with this killer roller."
Weska says "I've always looked up to Spencer as an artist, a DJ, and as a genuinely cool dude, so I was stoked when he asked me to give Reforma a spin. The original track is pretty percussive with a few melodic elements and a vocal sample, so I had a lot of creative freedom when writing it. The result is a deep, chugging, and slightly progressive groover that I hope you all will love to play."
The latest tracks from Brown have been played by Gabriel & Dresden, Cosmic Gate, and Oliver Heldens.
Spencer Brown has previously impressed me with his "I Was Too Young for 90s Raves" EP, his "Windows 95 on Acid" EP, and his recent remix of "Escape" by Kx5 featuring Hayla.
Other songs from Cody Hull to take a listen to include his "Eleventh Wave" EP, his remix of "Atomised" by Quivver, and his "Shades of Summer" EP with Bart Skils.
Spencer Brown – Facebook / Twitter / Instagram / SoundCloud
Weska – Facebook / Twitter / Instagram / SoundCloud
Spencer Brown – Reforma / Polybomba EP Tracklist:
1. Spencer Brown – Reforma (Original Mix)
2. Spencer Brown – Polybomba (Original Mix)
3. Spencer Brown – Reforma (Weska Mix)