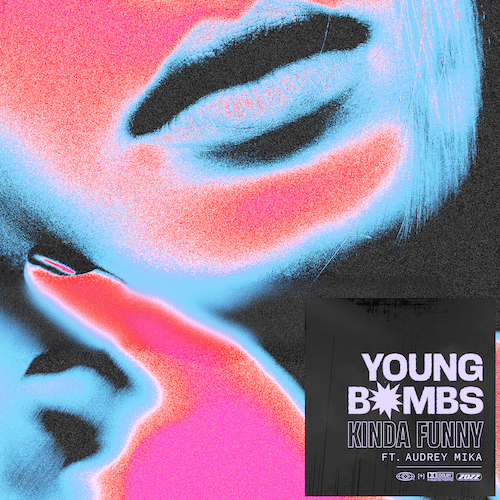 Vancouver natives Young Bombs have joined forces with Audrey Mika for the first time in their new upbeat house tune perfect for summer called "Kinda Funny". The bouncy song from Martin Kottmeier and Tristan Norton featuring the captivating vocals of Audrey Armacost was released by Sony Music Canada.
Read on for an interview with Young Bombs as the Los Angeles based duo talk about how they would describe their sound in three animals, the biggest change they've seen in each other, the collaboration process with Audrey Mika, and more!
What's up, Young Bombs! Appreciate you guys taking the time to answer some questions today. How has the first half of 2021 been for you?
As my great grandfather Augustus would say, it's been a whirlwind. We packed our things up and drove from Vancouver to LA at the end of March. We're currently still living in LA, working on new music and writing with some very talented people.
How would you describe your sound in three animals, and why those animals?
A camel, a songbird and a panda. Camel because their humps look like a kick drum and we're all about the fat kicks. Songbird because we try to get the most beautiful vocals out of the singers we collab with. Panda because they're cute and so are we.
Having first met in high school, creating remixes for a couple of years, then producing originals in 2019, what has been the biggest change you have seen in each other?
As corny as it sounds, we've watched each other's talents grow. At one point we were simply mediocre producers but fast forward to 2022 and we're now proficient photo and video editors, content creators, and many other random things we had no idea we were signing up for. It seems like nowadays you have to know how to do as many things as possible on your own to help your career thrive.
Your remixes have been streamed over 100 million times, with support from DJs like The Chainsmokers, Kygo, Don Diablo, Tiesto, Illenium, and Tritonal. What was your reaction when artists like these played your tracks?
We felt validated. It's nice to know that after putting hours and hours of hard work into a song that someone you respect and admire likes the art you're making.
What was the collaboration process like with Audrey Mika in your new song "Kinda Funny"?
Martin made the beat the night before we hit the studio. The next day we brought it into a session with Audrey and our friends Rollo and Deza. Together, we smashed out the vocal melodies and lyrics in probably 30 mins. Audrey went into the vocal booth to cut the "demo" but her delivery was SO good that we just knew we had to keep her on the final version of the song. Also, she cut the entire thing in two takes, which shows just how talented she is. Audrey doesn't need autotune, autotune needs Audrey.
Favorite song of 2022: Young Bombs – Kinda Funny (Original Mix) (Biased, yes)
Best track to play at peak time: David Guetta & Sia – Titanium (David Guetta & MORTEN Future Rave Remix)
Producer(s) and/or vocalist(s) you'd most like to work with: We'd love to do a song with MNEK. He's an unreal singer.
Upcoming artist(s) to watch for in 2022: Aaron Hibell is making amazing edits. His "Running Up That Hill" flip is unreal.
Take a listen to "Kinds Funny" by Young Bombs featuring Audrey Mika below and give the artists a follow!
Young Bombs – Facebook / Twitter / Instagram / SoundCloud
Audrey Mika – Facebook / Twitter / Instagram / SoundCloud