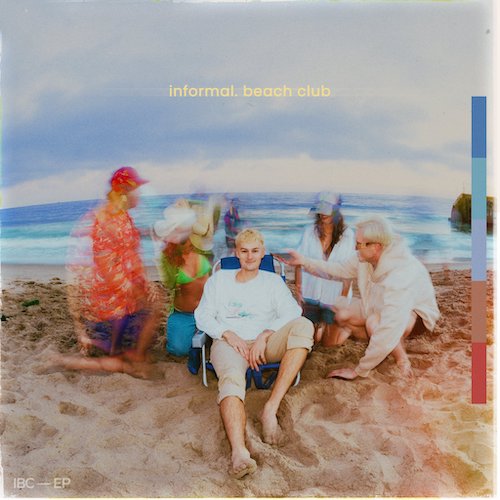 If you're looking for the perfect set of songs to listen to while cruising down Pacific Coast Highway the rest of this summer, look no further than the " informal. beach club" EP from informal.. The Los Angeles based artist includes "breathe (casual radio)", "gone girl" featuring James Kaye, "stay with me", "favorite places", "your life", and "& i'll play it" on his new mesmerizing EP from Casual Recordings that blends electro-house, pop, and nu-disco. The EP artwork was shot by Ronnie Loyd, who has worked with the likes of Madeon, Ookay, and Jai Wolf.
"All of my songs have an upbeat summery consistency to them, and the informal. project has always been inspired by carefree-happy memories at the beach," explains Sam Richie. "So when it came time to do a larger project, I knew I wanted to take those feelings and expand on them. For as long as I can remember people have always told me 'your music is perfect for the beach,' and I think I've fully embraced that in the past year."
He also adds that "the overall aesthetic of the project was inspired by a vintage 'beach club' t-shirt my Grandma gifted me. You know, the type you would see for sale in a Hawaiian gift shop in the '80s? So I wanted to take that aesthetic and translate it into my work."
Last month, informal. put together an hour long mix called "an informal. summer Vol. 1" featuring some of his favorite tunes.
informal. – Facebook / Twitter / Instagram / SoundCloud
James Kaye – Facebook / Twitter / Instagram / SoundCloud
informal. – informal. beach club EP Tracklist:
01. informal. – breathe (casual radio) (Original Mix)
02. informal. – gone girl ft. James Kaye (Original Mix)
03. informal. – stay with me (Original Mix)
04. informal. – favorite places (Original Mix)
05. informal. – your life (Original Mix)
06. informal. – & i'll play it (Original Mix)