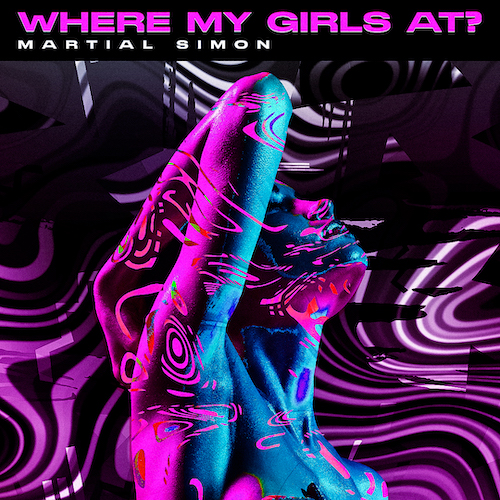 Coming at us with a seriously deep and groovy tech house heater is Martial Simon with "Where My Girls At?". The tune was released on his imprint Get Set Records, with the New York City based artist also finding the time to run SET Artist Management as well.
Read on for an interview with Martial Simon as he talks about his summer, how the new song is a change in his style, balancing his time between his record label, management company, and solo career, and more!
Hey Martial Simon, appreciate you time today! How has your summer been?
Thanks for having me! Summer has been great. Lots of gigs, been traveling a lot. Making music and spending time with family. Can't complain!
How would you describe your sound in three animals, and why those animals?
I honestly have no idea but I'll try my best. A chameleon because I am versatile depending on my surroundings. A quokka because it's generally very happy, uplifting music. And a sea turtle because I feel my music is timeless and flows effortlessly with ongoing trends.
"Where My Girls At?" is a change in style from your past couple of tracks. What made you decide to go with a deeper tech house track for this one?
Primarily, I wanted to showcase my versatility and show my roots. I think most people know my music as happy, bright, and uplifting but sometimes it's less about those brunch crowds and more about throwing it down on the dance floor.
In addition to your own imprint in Get Set Records, you also run SET Artist Management. How do you balance the time between the record label, management company, and your own solo career?
I get asked this pretty frequently and my answer is always the same: planning, preparation, and simply doing my best. If you do your best and surround yourself with good people, generally, success will follow.
What does the rest of the year look like for you?
Quite busy. I have a lot more music ready to go but we're in the process of formulating a plan around them. I'm also beginning to shape ideas/plans around a bigger body of work in the future. I also have plenty of gigs that will keep me busy. The grind never stops!
Favorite song of 2022: Europa (Jax Jones & Martin Solveig) & GRACEY – Lonely Heart (Original Mix)
Best track to play at peak time: Endor – Pump It Up (Original Mix)
Producer(s) and/or vocalist(s) you'd most like to work with: Producers – Sigala, David Guetta, Joel Corry. Vocalist – RAYE, Nikki Ambers, Myra.
Upcoming artist(s) to watch for in 2022: Helloworld, DRFT, PawS
Take a listen to "Where My Girls At?" below and give Martial Simon a follow!
Martial Simon – Facebook / Twitter / Instagram / SoundCloud