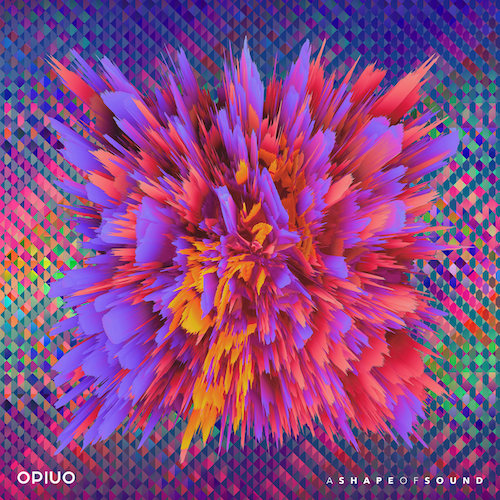 I first became a fan of Opiuo back in 2014 when I heard his trippy and wobbly track "Life" featuring Gift Of Gab and Syreneyiscreamy. Two years later, the New Zealand native released his third album called "Omniversal" from from his own record label in Slurp Music.
Oscar Davey-Wraight has now released his fifth album titled "A Shape Of Sound", full of funky synths, pumping basslines, and outstanding collaborations. The album consists of "Flapjack", "Lasso" featuring Ellika, "Quiver" featuring Eric Benny Bloom, "Humphrey Dumpling", "Gravitate" featuring Jordan Dennis, "Particle Dance", and "Dopamine". Also included in the set are"Front2Back", "Pluto" featuring Dominic Lalli, "Find Your Way", "Endless Dream" featuring MOONZz and ZIV, "Take Flight" featuring Eric Benny Bloom, and a remix of "Gravitate" by CloZee.
To support the album, the Melbourne based artist just started his A Shape Of Sound Tour, with a stop at the El Rey Theatre in Los Angeles on Saturday October 22.
Opiuo – Facebook / Twitter / Instagram / SoundCloud
Ellika – Facebook / Twitter / Instagram / SoundCloud
Eric Benny Bloom – Facebook / Twitter / Instagram / SoundCloud
Jordan Dennis – Facebook / Twitter / Instagram / SoundCloud
Dominc Lalli – Facebook / Twitter / Instagram / SoundCloud
MOONZz – Facebook / Twitter / Instagram / SoundCloud
ZIV – Facebook / Twitter / Instagram / SoundCloud
CloZee – Facebook / Twitter / Instagram / SoundCloud
Opiuo – A Shape of Sound (Album) Tracklist:
01. Opiuo – Flapjack (Original Mix)
02. Opiuo – Lasso ft. Ellika (Original Mix)
03. Opiuo – Quiver ft. Eric Benny Bloom (Original Mix)
04. Opiuo – Humphrey Dumpling (Original Mix)
05. Opiuo – Gravitate ft. Jordan Dennis (Original Mix)
06. Opiuo – Particle Dance (Interlude)
07. Opiuo – Dopamine (Original Mix)
08. Opiuo – Front2Back (Original Mix)
09. Opiuo – Pluto ft. Dominic Lalli (Original Mix)
10. Opiuo – Find Your Way (Original Mix)
11. Opiuo – Endless Dream ft. MOONZz and ZIV (Original Mix)
12. Opiuo – Take Flight. ft. Eric Benny Bloom (Original Mix)
13. Opiuo – Gravitate ft. Jordan Dennis (CloZee Remix)