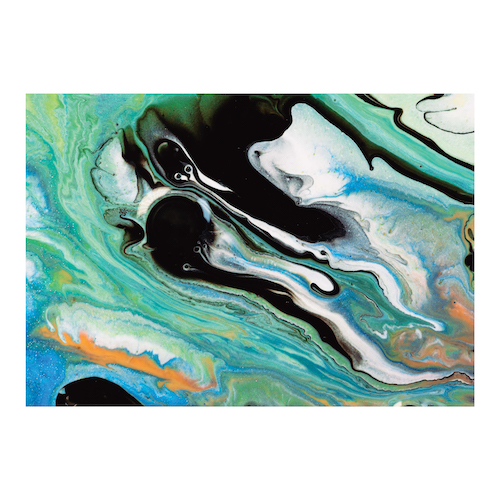 Having released "Colour & Pattern" in June and "The Sudden Glimmer" in July, Tutara Peak completes his "Radiance" EP with "Trident & Torch". The mesmerizing and captivating set from British DJ and producer Harvey Carter was put out on Alpha Pup.
Read on for an interview with Tutara Peak as he talks about his biggest accomplishment so far in 2022, the most challenging part about creating the collection, how his production style evolved since his debut track in 2020, and more!
Hello Tutara Peak! Appreciate you time here today. What has been your biggest accomplishment so far in 2022?
Thank you, appreciate you having me. It's tough to pick but I think a major turning point in my life this year was building my own studio. Travelling from bedroom to bedroom for years and now finally having a dedicated space makes it really special to be in there every day. 
How would you describe your sound in three animals, and why those animals?
Dragonfly – Always exploring new grounds.
Tiger – Emotional creatures.
Bloodybelly jellyfish (definitely Google this one) – Strong vibrancy.
Your "Radiance" EP was recently released on Alpha Pup. What was the most challenging part about creating the collection?
I think the most challenging aspect of this release was actually deciding why the songs should be bundled together. All the songs were finished separately, and we knew we wanted to release them as singles but as I'm currently sitting on some albums worth of music I thought, "Is there a way we can link these in some way?" We came up with the idea of releasing these songs as a sampler for what's to come, all of the songs representing different bodies of work yet to be released. I really enjoy thinking of unique reasons and ways to release music as I believe there can be a stronger purpose instead of just getting music out for the sake of getting it out or keeping up with the upstream of trends.
How long did "Radiance" take from inception to when you were satisfied with the final product?
Because all these songs were finished separately, it didn't really take too long from when they were finished to deciding they should be released for their own purpose. Once the tracks were finished, I went on the hunt for an artist to help me with the art direction and that's when we came across Shinesthesia who makes some amazing, lush textures with combinations of paint, oil and various objects. Working with him was amazing and he was very enthusiastic about the music which is a massive plus for me. It really helped us both communicate effectively to get the art direction of this release looking tight.
How has your production style evolved since your debut track "Daydream" with Aether, Zes, Lilia, and Grand Pavilion was released in 2020?
I've definitely stepped out of my comfort zone a lot more with my songwriting process. I now try to start from places where I don't feel 100% comfortable writing, pushing through that initial hurdle to fully realise an idea. I've even gone out to record various buskers playing and tried to combine all of them together to start a song, anything to get my brain engaged and thinking more – not just following some boring formula or stagnant process. One thing I've noticed since writing this way is working away from the computer, I often stumble across richer ideas than when I'm sitting at my computer. Maybe it's the deprivation of a screen or visual feedback, I'm not exactly sure but it's working a charm.
Favorite song of 2022: Big Thief – Certainty (Original Mix)
Best track to play at peak time: Flaws & imagiro – Saturday Evening (Original Mix)
Producer(s) and/or vocalist(s) you'd most like to work with: Biggest dream collab has always been Sigur Rós. Have always wanted to work with Jay Som, she's got an amazing skill of capturing any emotion she sets out to emit. Would love to work with Orla Gartland too, amazing voice and unique delivery. Working with Adrianne Lenker would be a dream too, her voice is always overflowing with emotion.
Upcoming artist(s) to watch for in 2023: My friend Flaws has some killer material lined up. Definitely one to watch. While on the more experimental side, I think M. Sage has been making some awesome music recently and I for one am super excited to see what's to come. Been a fan for a while but I feel like Skullcrusher has some absolute gold to show next year so definitely keep an eye out.
Take a listen to the "Radiance" EP below and give Tutara Peak a follow!
Tutara Peak – Facebook / Twitter / Instagram / SoundCloud
Owsey – Facebook / Twitter / Instagram / SoundCloud
Tutara Peak – Radiance EP Tracklist:
01. Tutara Peak – Colour & Pattern (Original Mix)
02. Tutara Peak & Owsey – The Sudden Glimmer (Original Mix)
03. Tutara Peak – Trident & Torch (Original Mix)