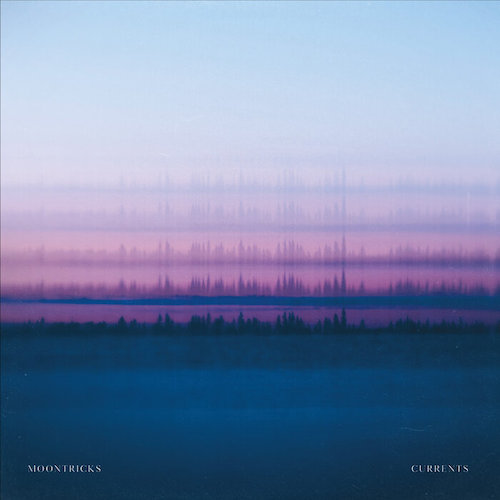 Having already released a couple of singles such as "The Edge" with Dirtwire and "Forest Of My Soul" earlier this year, Moontricks have wrapped it all together with their debut album titled "Currents". The 11 track set from the Canadian duo features "an ever-evolving, cohesive blend of introspective writing, soulful, gritty blues, boot-stomping basslines, and intricate electronic arrangements." The collection was put out on Vancouver based Westwood Recordings, which Nick Middleton of The Funk Hunters duo launched in 2013.
Moontricks say that "Currents is a testament to following paths into the unknown with grace, it carries the cycles between the acceptance and the struggle of having no control over the unfolding of time. There is a steady articulation through the songs of settling into the comfort and trust in that to be lost and searching is an intrinsic reality that holds beautiful authenticity.
The inspiration that we draw from the natural world is weaved through the roots of phases. The album concept came from our respect for the continuous and steadfast phases and cycles in nature that carry us despite the chaos that we create in our own internal worlds. The solace and respite that can be found reaching out past our own confines into the vastness beyond them is what we return to again and again in nature and in our music."
The album consists of "Forest Of My Soul", "Animals", "Birdtimes", "Currents", "Parting Ways" with KR3TURE, and "The Edge" with Dirtwire. Also included are "Embers", "Merlot", "Dark Matter", "Ballet In The Underground", and "Waves".
Nathan Gurley (producer) and Sean Rodman (songwriter and vocals), who are from the Kootenay mountains of Western Canada, initally caught my attention a few years ago with songs like "Home", "Solar Therapy", and "Get Up N Go" with The Funk Hunters.
Other tunes of Santa Cruz based Krikor Andonian to check out are "So Deep" featuring Brian Wood Capobianchi, "Anthropocene", and "Flying" featuring Lee Holden.
Past favorites of mine from Oakland based David Satori, Mark Reveley, and Evan Fraser include "Stranger", "Atlas", and "When The Levee Breaks" featuring Sidecar Tommy.
Moontricks – Facebook / Twitter / Instagram / SoundCloud
KR3TURE – Facebook / Twitter / Instagram / SoundCloud
Dirtwire – Facebook / Twitter / Instagram / SoundCloud
Moontricks – Currents (Album) Tracklist:
01. Moontricks – Forest Of My Soul (Original Mix)
02. Moontricks – Animals (Original Mix)
03. Moontricks – Birdtimes (Original Mix)
04. Moontricks- Currents (Original Mix)
05. Moontricks x KR3TURE – Parting Ways (Original Mix)
06. Moontricks x Dirtwire – The Edge (Original Mix)
07. Moontricks – Embers (Original Mix)
08. Moontricks – Merlot (Original Mix)
09. Moontricks – Dark Matter (Original Mix)
10. Moontricks – Ballet In The Underground (Original Mix)
11. Moontricks – Waves (Original Mix)