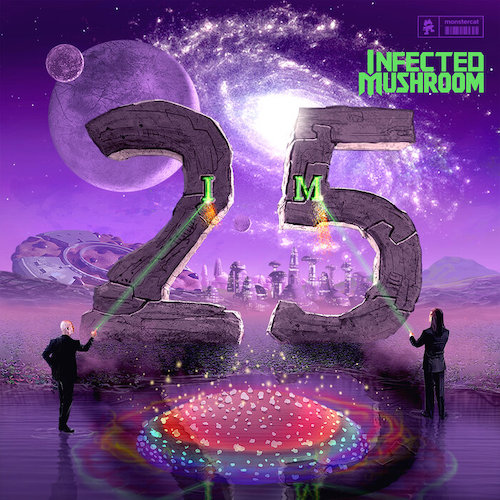 Celebrating their 25th anniversary as a duo, Infected Mushroom have released an 11 track album titled "IM25". Psytrance, reggae, and glitch hop are used by Erez Eisen and Amit Duvdevani in their 12th album together. The Israeli pair collaborate with seven talented artists in the release from Canadian record label Monstercat.
The album consists of "Black Velvet" featuring Ninet Tayeb, "While I'm In The Mood", "Business As Usual" with Hope 6 featuring Nick Hexum, "Boss La Rosh" with BLiSS, "Zazim Beyhad (We Move Together)" featuring May Sfadia, and "Turkish Nights" featuring Joseph E-Shine. Also included are "Serious Times" with Hope 6, "Lies And Deceptions", "A Cookie From Space" with BLiSS, "It's Behind Me Now", and "Billy On Mushrooms" with Mr. Bill.
Infected Mushroom will embark on their IM25 tour next month, with stops at The Music Box in San Diego on Friday December 23 and Exchange LA in Los Angeles on Saturday December 24.
Infected Mushroom – Facebook / Twitter / Instagram / SoundCloud
Ninet Tayeb – Facebook / Twitter / Instagram / SoundCloud
Hope 6 – Facebook / Twitter / Instagram / SoundCloud
Nick Hexum – Facebook / Twitter / Instagram / SoundCloud
BLiSS – Facebook / Twitter / Instagram / SoundCloud
May Sfadia – Facebook / Twitter / Instagram / SoundCloud
Joseph E-Shine – Facebook / Twitter / Instagram / SoundCloud
Mr. Bill – Facebook / Twitter / Instagram / SoundCloud
Infected Mushroom – IM25 (Album) Tracklist:
01. Infected Mushroom – Black Velvet ft. Ninet Tayeb (Remake)
02. Infected Mushroom – While I'm In The Mood (Original Mix)
03. Infected Mushroom & Hope 6 – Business As Usual ft. Nick Hexum (Original Mix)
04. Infected Mushroom & BLiSS – Boss La Rosh (Original Mix)
05. Infected Mushroom – Zazim Beyhad (We Move Together) ft. May Sfadia (Original Mix)
06. Infected Mushroom – Turkish Nights ft. Joseph E-Shine (Original Mix)
07. Infected Mushroom & Hope 6 – Serious Times  (Original Mix)
08. Infected Mushroom – Lies And Deceptions (Original Mix)
09. Infected Mushroom & BLiSS – A Cookie From Space (Original Mix)
10. Infected Mushroom – It's Behind Me Now (Original Mix)
11. Infected Mushroom & Mr. Bill – Billy On Mushrooms (Original Mix)