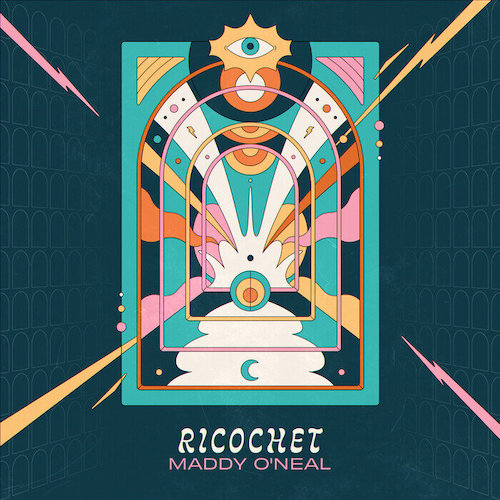 Bursting at the seams with bass, funk, and soul, Maddy O'Neal has released her second album titled "Ricochet". Spacey vibes, impressive drums, and groovy beats are used throughout the exceptional 10 track set that was self released. Earlier today, she held an AMA on reddit where she talked about production elements in the album, influences in her career, her favorite track from the album, and more.
She says "While writing this record over the last year I had this profound feeling of returning to myself…When the dust finally settled after the madness of the last couple years I really felt the clarity of my vision and trusting myself to really let the music flow. This record feels the most "me" I've ever felt and I hope all of the pieces resonate with you as deeply as I wrote them."
The album consists of "The Way Home", "Back to Basics" featuring Def3, "Change of Pace" featuring MOONZz, "Affected" with Ryan Montbleau featuring Ryan Jalbert, Alana Rocklin, Benny Bloom, and WhyAwake, and "Follow Me" featuring Balkan Bump. Also included are "Slow Motion", "Never Fades" featuring Sink, "Climb On" featuring Michelle Sarah and Brisco Jones, "Dystopia" featuring Honeycomb, and "Get Gone" featuring Lily Fangz.
This past weekend, O'Neal played at her first set at Excision's festival Lost Lands where she closed out the Forest Stage on Sundays lineup. The Denver based artist will be making her way to Southern California in November, playing alongside Dirtwire at both the Teragram Ballroom in Los Angeles on Thursday November 3 and the Music Box in San Diego on Friday November 4.
Maddy O'Neal – Facebook / Twitter / Instagram / SoundCloud
Def3 – Facebook / Twitter / Instagram / SoundCloud
MOONZz – Facebook / Twitter / Instagram / SoundCloud
Ryan Montbleau – Facebook / Twitter / Instagram / SoundCloud
Ryan Jalbert – Facebook / Twitter / Instagram / SoundCloud
Alana Rocklin – Facebook / Twitter / Instagram / SoundCloud
Benny Bloom – Facebook / Twitter / Instagram / SoundCloud
WhyAwake – Facebook / Twitter / Instagram / SoundCloud
Balkan Bump – Facebook / Twitter / Instagram / SoundCloud
Sink – Facebook / Twitter / Instagram / SoundCloud
Michelle Sarah – Facebook / Twitter / Instagram / SoundCloud
Brisco Jones – Facebook / Twitter / Instagram / SoundCloud
Honeycomb Facebook / Twitter / Instagram / SoundCloud
Lily Fangz – Facebook / Twitter / Instagram / SoundCloud
Maddy O'Neal – Ricochet (Album) Tracklist:
01. Maddy O'Neal – The Way Home (Original Mix)
02. Maddy O'Neal – Back to Basics ft. Def3 (Original Mix)
03. Maddy O'Neal – Change of Pace ft. MOONZz (Original Mix)
04. Maddy O'Neal & Ryan Montbleau – Affected ft. Ryan Jalbert, Alana Rocklin, Benny Bloom, & WhyAwake (Original Mix)
05. Maddy O'Neal – Follow Me ft. Balkan Bump (Original Mix)
06. Maddy O'Neal – Slow Motion (Original Mix)
07. Maddy O'Neal – Never Fades ft. Sink (Original Mix)
08. Maddy O'Neal – Climb On ft. Michelle Sarah & Brisco Jones (Original Mix)
09. Maddy O'Neal – Dystopia ft. Honeycomb (Original Mix)
10. Maddy O'Neal – Get Gone ft. Lily Fangz (Original Mix)