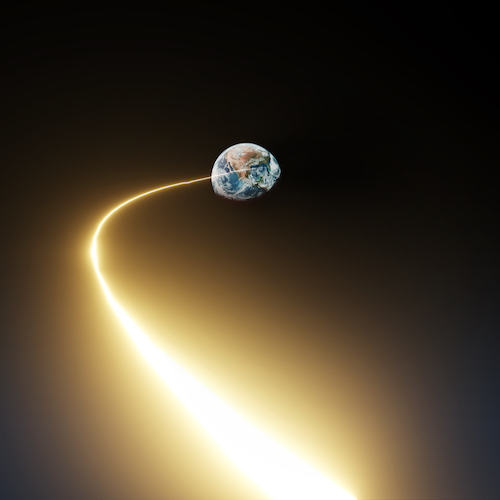 I've been following SLANDER for almost a decade now, starting in 2013 with a couple head banging trap remixes of theirs (although the tracks have since been removed from their SoundCloud). Originally meeting at University of California Irvine and then graduating from Icon Collective (alongside longtime collaborator NGHTMRE), Derek Andersen and Scott Land have risen from playing local shows around Orange County and Los Angeles to major festivals and iconic clubs around the world.
Announcing their Thrive Tour in July to take place this fall, the Los Angeles based duo have now released their debut album of the same name. While the majority of the 10 tracks focuses on their known melodic bass style, two of the tunes venture into the techno realm.
The album consists of "Kill Me With Silence" with Medyk, "Nothing Hurts Like Goodbye" with Kiiara, "Replay" with Dylan Matthew, "Halfway Down" with Ashley Drake, and "Monster" with NGHTMRE. Also included are "Love Is Gone" with Dylan Matthew, "Walk On Water" with RØRY and Dylan Matthew, "Before Dawn", "Second Life", and "Watch Over Me" with JT Roach.
Andersen states "We're telling a cosmic love story. In the future, this astronaut is searching for a place to start life again, but he has a love back on earth in the past. The name THRIVE sets the tone as it reflects the spaceman's journey to make the human race thrive again. During the journey, he experiences relationship flashbacks of his memories on earth as he gets farther and farther away from the home. You're essentially hearing all of this."
"An album has been a long time coming for us," says Land. "We were never stuck in one place long enough to make ten songs with a singular vibe though. It got to the point where the pandemic happened, and it was almost the perfect timing. We didn't have any shows, and we had the space for a full body of work. We've known each other for twelve years, always DJ'ed together, and shared similar tastes in music. We got to have a bit of fun now."
Songs from the album have been supported by Illenium, Alison Wonderland, The Chainsmokers, Gabriel & Dresden, ARMNHMR, Valentino Khan, Excision, Ray Volpe, Wooli, Kayzo, ARMNHMR, Jason Ross, Gryffin, Jauz, Lucii, William Black, Kap Slap, Borgeous, and Pauline Herr.
SLANDER – Facebook / Twitter / Instagram / SoundCloud
Medyk – Facebook / Twitter / Instagram / SoundCloud
Kiiara – Facebook / Twitter / Instagram / SoundCloud
Dylan Matthew  – Facebook / Twitter / Instagram / SoundCloud
Ashley Drake – Facebook / Twitter / Instagram / SoundCloud
NGHTMRE – Facebook / Twitter / Instagram / SoundCloud
RØRY – Facebook / Twitter / Instagram / SoundCloud
JT Roach – Facebook / Twitter / Instagram / SoundCloud
SLANDER – Thrive (Album) Tracklist:
01. SLANDER & Medyk – Kill Me With Silence (Original Mix)
02. SLANDER & Kiiara – Nothing Hurts Like Goodbye (Original Mix)
03. SLANDER & Dylan Matthew – Replay (Original Mix)
04. SLANDER & Ashley Drake – Halfway Down (Original Mix)
05. SLANDER & NGHTMRE – Monster (Original Mix)
06. SLANDER & Dylan Matthew – Love Is Gone (Original Mix)
07. SLANDER, RØRY, & Dylan Matthew- Walk On Water (Original Mix)
08. SLANDER – Before Dawn (Original Mix)
09. SLANDER – Second Life (Original Mix)
10. SLANDER & JT Roach – Watch Over Me (Original Mix)