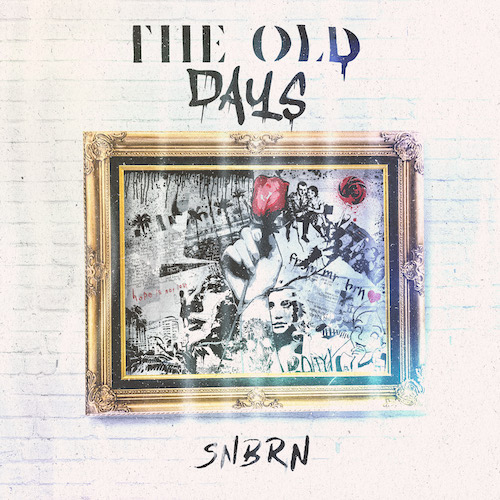 Two years in the making, the second album from SNRBN called "The Old Days" has been released from Ultra Records. The set features 19 tracks and collaborations with 13 talented producers and vocalists.
The album consists of "A Title Track", "Old Days", "Home" with Cavin Scott, "Echoes" with Kudu Blue, "When You're Dreaming" with Zalibar, "When We're Awake" with Discrete and Tudor, "Paperweight" with Discrete and Sofia Karlberg, "I Don't Think U Do" with FREAK ON, "Devil Driver" featuring AJ Euro and Zacc West, and "Crossed Lines" featuring Madalen Duke.
Also included are "Letting Go" with Burko featuring Blue Jade, "Why Are You Here", "Not The Only One", "This Flight" featuring AJ Euro, "Hassell", "Ghosts" featuring Zacc West, "If We Ever Meet Again", "A La Prochaine" featuring Kaya, and "Keep Dancing".
Read on for an interview with SNRBN as he talks about selecting the songs on the album, collaborating with 13 artists, how he has grown and developed as an artist over the past eight years, and more!
What's up SNBRN! How's your day going so far?
It's a great day! Currently in my living room getting tattooed.
How would you describe your sound in three animals, and why those animals?

Chupacabra – Powerful & mysterious
Barracuda – Paves its own way
Dove – Compassion and love
Your second album called "The Old Days" was recently released on Ultra Records. At 19 tracks, that might seem a bit much to some people. What was the thought process behind selecting the songs and the story you wanted to tell?
The most important thing for me was telling the story. I wanted to really take people on a journey that almost feels like a movie. Some of the records are long, some are short, but I wanted to hit around the one hour mark. It came down to; does this feel complete? Does this feel too long? And are you able to sit down and listen to the entire thing comfortably? It initially started as this breakup story but evolved into something much deeper. Lots of music was made with family members and close friends. I ended up finding voicemails from loved ones who had passed away and even re-made a record my uncle had recorded in the 70's. It's a story of letting go of the past and moving forward.
Collaborating with thirteen producers and vocalists on the album, how did you manage to bring all the artist's talents together in the final versions?
Every record had to be different. I made sure each one was unique but also felt cohesive. It took over two years and lots of songs that didn't make it on. I really wanted to work with individuals that were outside of my world of dance music. I started to understand who works well with one another and how to run sessions extremely efficiently. The majority of it was recorded and written in my studio in DTLA. Bringing the artists into my environment allowed me full control of how things were recorded and also structured. Sometimes when working remotely there's a disconnect. You could almost be on two different pages and not working towards the same goal. I feel that it's so important to be in the same room and be open, honest and talk about all aspects of what it is you're creating. Everyone involved in the album complimented one another. I even have a duet and multiple artists in one record. I also decided after everything was completed to bring in a gospel and children's choir on a bunch of the records. I am honored to have worked with such talented and amazing individuals.
I've been following you for quite some time now, back to the days of your remix of "In The Air" by Morgan Page featuring Angela McCluskey in 2014. How have you grown and developed as an artist over the past eight years?
So many of my goals were focused around songwriting and recording. As a young artist, I started out making remixes but wanted more and more to have original songs. I had slowly transitioned with covers of known songs until I sat in a small studio with Kerli writing "Raindrops". I feel my sound has really matured over the years and I am very comfortable with myself. So much of any profession comes down to two things; hard work and practice. What you put in is what you get out. I also really let alcohol and drugs run my life in my 20's. I've been sober for 19 months now and have made a lot of lifestyle changes that saved my life. My head is clear and I'm more driven than I've ever been. I guess this is growing up.
Favorite song of 2022: Fred again.. x Swedish House Mafia – Turn On The Lights again.. ft. Future (Original Mix)
Best track to play at peak time: AC/DC – TNT (FREAK ON Remix)
Producer(s) and/or vocalist(s) you'd most like to work with: MK, Ellie Goulding
Upcoming artist(s) to watch for in 2023: Zacc West, Kaya, TX2
Take a listen to "The Old Days" below and give SNRBN and the collaborators a follow!
SNBRN – Facebook / Twitter / Instagram / SoundCloud
Cavin Scott – Facebook / Twitter / Instagram / SoundCloud
Kudu Blue – Facebook / Twitter / Instagram / SoundCloud
Zalibar – Facebook / Twitter / Instagram / SoundCloud
Discrete – Facebook / Twitter / Instagram / SoundCloud
Tudor – Facebook / Twitter / Instagram / SoundCloud
Sofia Karlberg – Facebook / Twitter / Instagram / SoundCloud
FREAK ON – Facebook / Twitter / Instagram / SoundCloud
AJ Euro – Facebook / Twitter / Instagram / SoundCloud
Zacc West – Facebook / Twitter / Instagram / SoundCloud
Madalen Duke – Facebook / Twitter / Instagram / SoundCloud
Burko – Facebook / Twitter / Instagram / SoundCloud
Blue Jade – Facebook / Twitter / Instagram / SoundCloud
Kaya – Facebook / Twitter / Instagram / SoundCloud
SNBRN – The Old Days (Album) Tracklist:
1. SNBRN – A Title Track (Intro)
2. SNBRN – Old Days (Original Mix)
3. SNBRN & Cavin Scott – Home (Original Mix)
4. SNBRN & Kudu Blue – Echoes (Original Mix)
5. SNBRN & Zalibar – When You're Dreaming (Original Mix)
6. SNBRN, Discrete, Tudor – When We're Awake (Original Mix)
7. SNBRN, Discrete, Sofia Karlberg – Paperweight (Original Mix)
8. SNBRN & FREAK ON – I Don't Think U Do (Original Mix)
9. SNBRN – Devil Driver ft. AJ Euro & Zacc West (Original Mix)
10. SNBRN – Crossed Lines ft. Madalen Duke (Original Mix)
11. SNBRN & Burko – Letting Go ft. Blue Jade (Original Mix)
12. SNBRN – Why Are You Here (Original Mix)
13. SNBRN – Not The Only One (Original Mix)
14. SNBRN – This Flight ft. AJ Euro (Original Mix)
15. SNBRN – Hassell (Interlude)
16. SNBRN – Ghosts ft. Zack West (Original Mix)
17. SNBRN – If We Ever Meet Again (Original Mix)
18. SNBRN – A La Prochaine ft. Kaya (Original Mix)
19. SNBRN – Keep Dancing (Outro)