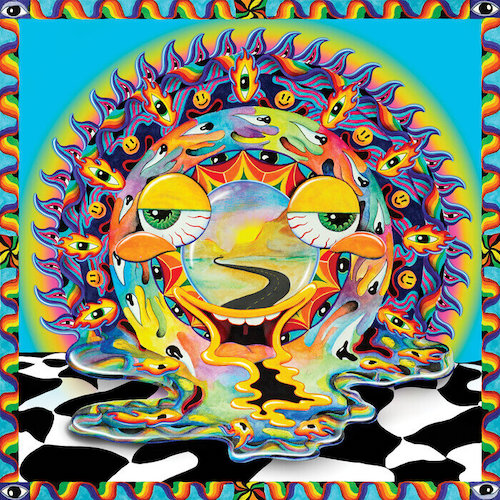 Continuing his "Chasing The Golden Hour" series is GRiZ with the fourth installment self released by the Detroit native. Filled with all the funk and soul that we've come to know and love from GRiZ, the nine track set is perfect to listen on a late night drive with no destination in mind. GRiZ also created a 30 minute continuous mix of tracks from the album, complete with a trippy visualizer.
The album consists of "Mystik Dub", "Your Light", "Keep Bouncin'", and "Airplane Mode" featuring ProbCause and Chrishira. Also included are "Carry On", "Gooey", "On A High", "Your Mind", and "Sundown".
The album artwork was designed by Pasadena based illustrator Dang Wayne Olsen. Be sure to check out Part 1 from 2015, Part 2 from 2017, and Part 3 from 2020 of the series as well!
Favorites of mine from Denver based Grant Kwiecinski over the past couple of years include "Color Of Your Soul" with CloZee, "Griztronics II (Another Level)" with Subtronics, and his "Bangers[6].Zip" EP.
When not working with the likes of Snoop Dogg, Action Bronson, Lil Dicky, and Chance The Rapper, Chicago native Colin Grimm also splits his time touring, animating, designing, and producing. He previously collaborated with GRiZ on two songs from his 2021 album "Rainbow Brain" in "Rainbow Brain" with Chrishira and "Daily Routine" with Big Gigantic.
A member of the GRiZ Live Band, New Orleans native Chrishira Perrier has worked with the likes of Trombone Shorty, Gramatik, Waka Flocka Flame, Anomalie, and Manic Focus.
GRiZ – Facebook / Twitter / Instagram / SoundCloud
ProbCause – Facebook / Twitter / Instagram / SoundCloud
Chrishira – Facebook / Twitter / Instagram / SoundCloud
GRiZ – Chasing The Golden Hour Pt. 4 (Album) Tracklist:
01. GRiZ – Mystik Dub (Original Mix)
02. GRiZ – Your Light (Original Mix)
03. GRiZ – Keep Bouncin' (Original Mix)
04. GRiZ – Airplane Mode ft. ProbCause & Chrishira (Original Mix)
05. GRiZ – Carry On (Original Mix)
06. GRiZ – Gooey (Original Mix)
07. GRiZ – On A High (Original Mix)
08. GRiZ – Your Mind (Original Mix)
09. GRiZ – Sundown (Original Mix)