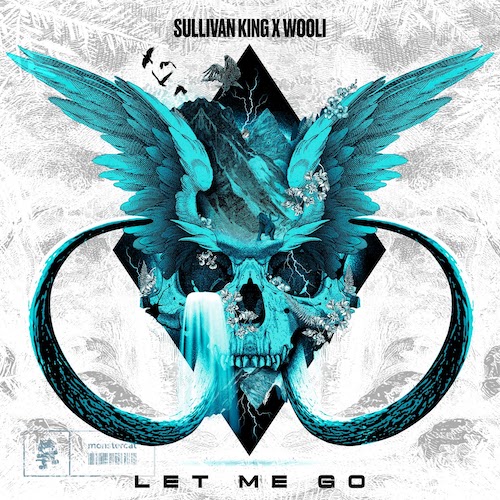 If you've been at a Sullivan King or Wooli performance over the past few months, chances are you heard their latest collaboration "Let Me Go". The bass heavy and brain rattling tune has been played at Bass Canyon, Lost Lands, Academy in Los Angeles, Summoning of the Eclipse, and EDC Orlando. The guys had previously worked together on "Don't Forget Me" in February 2020.
The track will be part of his album titled "Thrones Of Blood" set to be released from Canadian record label Monstercat in March 2023. Also that month, Sullivan King will start his Thrones Of Blood tour, playing in San Diego at Soma on Thursday April 6 and at the Hollywood Palladium on Friday April 7 and Saturday April 8. Support will come from the likes of Level Up, Benda, and Vastive.
"Adam and I wrote "Let Me Go" about his fear of planes", says Sullivan King. "I'm pretty sick of him always holding on to me when we fly next to each other and there's a little turbulence. He's really just not a great flyer tbh and it's f*****' annoying, so Adam if you're reading this….. let me go. Stop grabbing my hand. You squeeze way too much. We're gonna be fine. Statistically, not a single plane has crashed from turbulence, so just drink your ginger ale, have those little biscoff cookies American Airlines gives out, and watch a Harry Potter movie. We're gonna be good."
Wooli states that "'Let Me Go' is about the time Keaton kidnapped me. He put me in a cage in the crawl space of his Miami condo and left one night to go get more diapers and Monster Energy baby formula for his new kid. I felt it was the perfect time to escape. I picked the lock with a Capri Sun straw and bolted for the elevator. As soon as the doors opened, Keaton was standing there smiling. "Don't leave yet, we have more 'content' to film!" he said. He began to slip back into character as the Joker from Batman. "You don't want to see me get Reckless do you?" I'm actually still writing this from the cage. If you are reading this, please call 911 or Excision. They are my only hope."
Some of my favorites of Los Angeles native Keaton Prescott over the past couple of years include "Dark Love" featuring Aaron Gillespie, his remix of "Alone" featuring Our Last Night, and his bootleg of "Boulevard Of Broken Dreams" by Green Day.
New York native Adam Puleo has released songs like "Pantheon" with Blastoyz, Dimibo, Jason Ross, Kill The Noise, Seven Lions, and Trivecta, "Shadows" with Seven Lions and AMIDY, and "Over You" featuring Lena Leon.
Sullivan King – Facebook / Twitter / Instagram / Soundcloud
Wooli – Facebook / Twitter / Instagram / SoundCloud