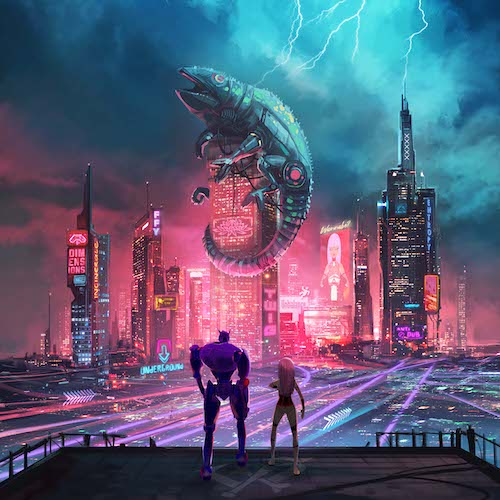 Blosso released "Falling For You" with YDG in August to serve as the lead single for his debut album. The fifteen track set titled "Chameleon" was recently put out on Kayzo's Los Angeles based Welcome Records, which he launched in 2018. Seoul based DJ and producer Demiahn Lee weaves dubstep, trap, drum and bass, psytrance, and breakbeat throughout the collection.
Blosso says that "It was a great experience to make an album. Unlike an EP, I had to consider a lot of things like the order of tracks, the entire vibe of the whole album and so on. I really love the final result; the album allowed me to experiment in a lot of different ways and it was a fun challenge to make everything fit together harmoniously.
From the time I started making Chameleon to now, I worked with so many great artists who helped make the experience enjoyable. The album is not only a piece of my larger discography, but an experience that helped me reflect on my overall attitude toward music. I'm sure that the next album will be very different from Chameleon, but this album will show you a part of who I am.
In short, this album is a piece of me. I hope you can feel the emotions that I felt while making these songs. I also hope you'll be excited about what's coming next!"
The album consists of "Master of Mayhem" featuring Chicago based BVLVNCE, "Chameleon" with fellow Korean artist Limbo Slice, "Falling For You" with San Diego native YDG, "Entropy" featuring Italian vocalist Becko, "Underground", "Unbalance", "The Way It Goes" with Norway based DOIL featuring Iowa native Micah Martin, and "Wannabe" featuring David Vance of Ohio.
The set also includes "Irreplaceable", "Inner Violence", "Dimensions", "We Are Alive" featuring Becko, "Anti Dub", "Incinerate" with Houston native TYPHON, "Higher Than Heaven" with Los Angeles based Nytrix, and "Can We Do Better" (a presave exclusive).
In July, Blosso teamed up with Kayzo on "Crown Of Thorns" featuring BVLVNCE from his third album in "New Breed".
Blosso – Facebook / Twitter / Instagram / SoundCloud
BVLVNCE – Facebook / Twitter / Instagram / SoundCloud
Limbo Slice – Facebook / Twitter / Instagram / SoundCloud
YDG – Facebook / Twitter / Instagram / SoundCloud
Becko – Facebook / Twitter / Instagram / SoundCloud
DOIL – Facebook / Twitter / Instagram / SoundCloud
Micah Martin – Facebook / Twitter / Instagram / SoundCloud
David Vance – Facebook / Twitter / Instagram / SoundCloud
TYPHON – Facebook / Twitter / Instagram / SoundCloud
Nytrix – Facebook / Twitter / Instagram / SoundCloud
Blosso – Chameleon (Album) Tracklist:
01. Blosso – Master of Mayhem ft. BVLVNCE (Original Mix)
02. Blosso x Limbo Slice – Chameleon (Original Mix)
03. Blosso x YDG – Falling For You (Original Mix)
04. Blosso – Entropy ft. Becko (Original Mix)
05. Blosso – Underground (Original Mix)
06. Blosso – Unbalance (Original Mix)
07. Blosso x DOIL – The Way It Goes ft. Micah Martin (Original Mix)
08. Blosso – Wannabe ft. David Vance (Original Mix)
09. Blosso – Irreplaceable (Original Mix)
10. Blosso – Inner Violence (Original Mix)
11. Blosso – Dimensions (Original Mix)
12. Blosso – We Are Alive ft. Becko (Original Mix)
13. Blosso – Anti Dub (Original Mix)
14. Blosso x TYPHON – Incinerate (Original Mix)
15. Blosso x Nytrix – Higher Than Heaven (Original Mix)
16. Blosso – Can We Do Better (Original Mix) (Presave Exclusive)