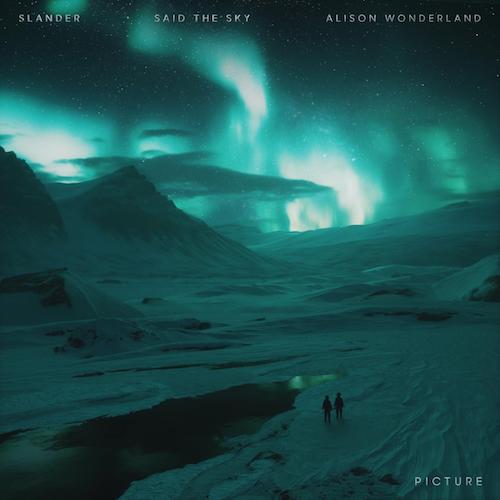 At the end of their back to back set at EDC Las Vegas 2021, SLANDER and Said The Sky played their collaboration with Alison Wonderland called "Picture" for the first time. Alison joined the set during the song via FaceTime, and hinted a few hours earlier that they should play their song. Over a year later, we finally have the official release of the melodic bass tune from Derek Andersen and Scott Land, Alex Sholler, and Trevor Christensen.
"We are so excited 'Picture' is finally here," say SLANDER. "We have been working on this song since fall 2019 and we could not be happier with the final version. Massive shout out to Alison Wonderland and Said The Sky for being two of the kindest and most talented humans we have ever worked with."
SLANDER played the track during their set at Countdown NYE last week, with Valentino Khan and Young Bombs supporting the tune.
Los Angeles based SLANDER, who first met at the University of California Irvine and alter graduated from Icon Collective, put out their 10 track debut album "Thrive" a few months ago in September. They have played at Red Rocks, Ultra Music Festival Miami, and Lost Lands.
A native of Sydney now based in Los Angeles, Alison Wonderland released her third album titled "Loner" in May. She has performed at Coachella, HARD Summer, and Red Rocks.
Denver native Said The Sky released his second album "Sentiment" earlier this year in February. He has played at festivals such as Bonnaroo, EDC Orlando, and Okeechobee.
SLANDER – Facebook / Twitter / Instagram / SoundCloud
Alison Wonderland – Facebook / Twitter / Instagram / SoundCloud
Said The Sky – Facebook / Twitter / Instagram / SoundCloud