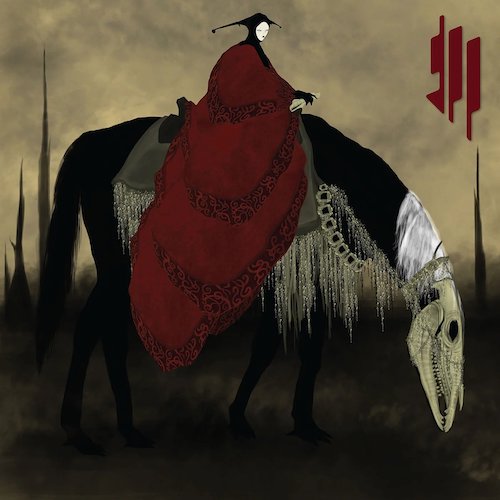 It's been nearly a decade since Skrillex released his one and only album "Recess" in 2014. One and only until yesterday, that is. A few of the tracks from the Los Angeles based DJ and producer had already been released, such as "Rumble" with Fred again.. and Flowdan in January and "Butterflies" with Starrah and Four Tet in May 2021. The 15 song album featuring 23 collaborators was released on his label OWLSA and Atlantic Records.
Last week, Skrillex played a Quest For Fire Basement Set where he premiered all the songs included in the album. Sonny Moore collaborates with a number of vocalists and producers on his second album, including Bobby Raps, Missy Elliot and Mr. Oizo, Joker and Sleepnet, Fred again.. and Flowdan, Starrah and Four Tet, Aluna and Kito, Eli Keszler, and Nai Barghouti. He also works with Swae Lee, Siiickbrain, and Posij, BEAM and PEEKABOO, Noisia, josh pan, and Dylan Brady, and Porter Robinson and Bibi Bourelly.
Songs from the album have been supported by a wide number of DJs, including Diplo, Ekali, Jamie xx, PEEKABOO, Whethan, X&G, Virtual Riot, ISOxo, Hydraulix, JOYRYDE, Alison Wonderland, Ghastly, k?d, Louis The Child, Tisoki, TroyBoi, Wuki, Oliver Heldens, Tiesto, Armin van Buuren, Martin Garrix, Afrojack, Gorgon City, Valentino Khan, NGHTMRE, Fedde Le Grand, Firebeatz, Timmy Trumpet, Wax Motif, Danny Howard, Zeds Dead, and more.
If the Grammy Award winner wasn't busy enough with the production of "Quest For Fire", he also announced a second album this year in "Don't Get Too Close", with the title track with Bibi Bourelly put out a few days ago. Released a few weeks ago, "Real Spring" with Bladee looks to be part of that album judging by the album art.
Skrillex – Facebook / Twitter / Instagram / SoundCloud
Bobby Raps – Facebook / Twitter / Instagram / SoundCloud
Missy Elliot – Facebook / Twitter / Instagram / SoundCloud
Mr. Oizo – Facebook / Twitter / Instagram / SoundCloud
Joker – Facebook / Twitter / Instagram / SoundCloud
Sleepnet – Facebook / Twitter / Instagram / SoundCloud
Fred again.. – Facebook / Twitter / Instagram / SoundCloud
Flowdan – Facebook / Twitter / Instagram / SoundCloud
Starrah – Facebook / Twitter / Instagram / SoundCloud
Four Tet – Facebook / Twitter / Instagram / SoundCloud
Aluna – Facebook / Twitter / Instagram / SoundCloud
Kito – Facebook / Twitter / Instagram / SoundCloud
Eli Keszler – Facebook / Twitter / Instagram / SoundCloud
Nai Barghouti – Facebook / Twitter / Instagram / SoundCloud
Swae Lee – Facebook / Twitter / Instagram / SoundCloud
Siiickbrain – Facebook / Twitter / Instagram / SoundCloud
Posij – Facebook / Twitter / Instagram / SoundCloud
BEAM – Facebook / Twitter / Instagram / SoundCloud
PEEKABOO – Facebook / Twitter / Instagram / SoundCloud
Noisia – Facebook / Twitter / Instagram / SoundCloud
josh pan – Facebook / Twitter / Instagram / SoundCloud
Dylan Brady – Facebook / Twitter / Instagram / SoundCloud
Porter Robinson – Facebook / Twitter / Instagram / SoundCloud
Bibi Bourelly – Facebook / Twitter / Instagram / SoundCloud
Skrillex – Quest For Fire (Album) Tracklist:
01. Skrillex with Bobby Raps – Leave Me Like This (Original Mix)
02. Skrillex, Missy Elliot, & Mr. Ozio – Ratata (Original Mix)
03. Skrillex, Joker, & Sleepnet – Tears (Original Mix)
04. Skrillex, Fred Again.. , & Flowdan – Rumble (Original Mix)
05. Skrillex, Starrah, & Four Tet – Butterflies (Original Mix)
06. Skrillex, Aluna, & Kitto – Inhale Exhale (Original Mix)
07. Skrillex & Eli Keszler – A Street I Know (Original Mix)
08. Skrillex & Nai Barghouti – Xena (Original Mix)
09. Skrillex, Swae Lee, Siiickbrain, & Posij  – Too Bizzare (Juked)
10. Skrillex, Flowdan, BEAM, & PEEKABOO – Hydrate (Original Mix)
11. Skrillex – Warped Tour 05′ with Pete Wentz
12. Skrillex & Starrah – Good Space (Original Mix)
13. Skrillex, Noisia, josh pan, & Dylan Brady – Supersonic (My Existence) (Original Mix)
14. Skrillex – Hazel Theme (Original Mix)
15. Skrillex, Porter Robinson, & Bibi Bourelly – Still Here (With The Ones That I Came With) (Original Mix)