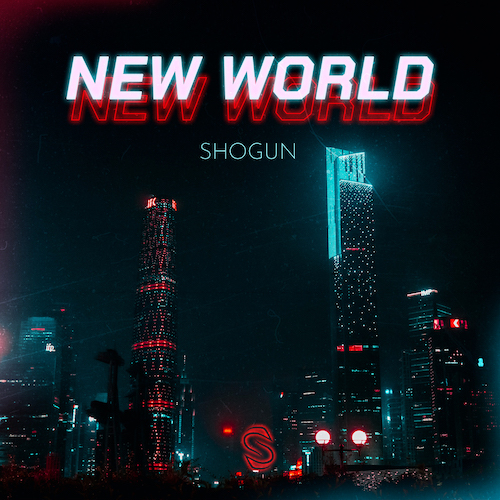 Featuring two new tunes and 10 previously released tracks (including "Cielo"), Shogun's "New World" album is the final long-form trance project from the talented artist. Orange County native DJ and producer Andrew Chen will focus on his Neo Tokyo and NXNJAS aliases going forwards, but not before releasing the energetic and hard hitting set from Amsterdam based Serendipity Muzik.
Read on for an interview with Shogun as he talks about his move to Tokyo, his favorite tracks to work on from the album, what 2023 looks like for NXNJAS and Neo Tokyo, and more!
Hey Shogun! Appreciate your time here today. How have the first few months of the year been for you?

Thanks for having me! The first few months of the year have been great for me! I recently released a new album called "New World" and now I have been spending a lot of time working on my radio show called Neo Tokyo Radio which launched a few weeks ago!
How would you describe your sound in three animals, and why those animals?

Dragon, Tiger, Bear. My music is fearless, powerful, and full of energy.
What are some of your favorite things about living in Orange County?

I actually just moved to Tokyo! I loved living in the OC and it will forever be in my heart but I visited Japan a few times while on tour and absolutely fell in love with the food, the culture, the people…just everything about it. I felt like it was time for a change after the pandemic so I finally bit the bullet and made the move. I have zero regrets so far. Tokyo is an incredible place and I'm proud to call it my home.
"New World" is the title of your new album, which includes collaborations with Jennifer Rene and Natalia Gioia. What was it like in working with the two vocalists and getting the tracks to where they felt right?

Jennifer Rene and Natalia Gioia are not only legends in the trance space but also extremely talented and it was a pleasure to work with them. When done right, there is something uniquely special and epic about a vocal trance track. Jennifer and Natalia really rounded out the tracks and helped me create something incredible.
Of the 10 previously released tracks on the album, which was your favorite to work on?

I loved working on "Concentration." It highlights my signature trance sound but incorporates a future rave twist. It was so fun for me to be able to mix different sounds to create this thundering track.
In terms of the previously released tracks, I think "Nezuko" would have to be my favorite because it was inspired by the protagonist from my favorite manga series, Demon Slayer. It's about 2 people looking out for each other, surviving, and going up against all odds, but in the end, they prevail. It's a very emotional story and I wanted to capture this feeling in the track.
It's also noted that the album is your final trance project. What does this mean for Shogun going forwards?

I am going to start focusing on other projects, including my two aliases: NXNJAS and Neo Tokyo. I also just launched a radio show called Neo Tokyo Radio that I am going to spend a lot of time on. It's a combination of a mix of my favorite records of the moment with some fun AI/futuristic elements added on.
What drove the decision to focus on your NXNJAS and Neo Tokyo aliases?

There are so many dimensions to my music and sound that I want to share with the world that didn't quite fit under the classic Shogun sound. I love all the music I have released under Shogun, but I am excited to show the world what else I have to offer.
Can you share with us what 2023 looks like for NXNJAS and Neo Tokyo?

2023 is going to be a big year for  NXNJAS and Neo Tokyo, filled with a lot of fresh releases, collaborations, and many more surprises. We're planning a big NXNJAS collab with Öwnboss which is bound to take over the airwaves this summer. Keep an eye out for it!
Favorite song of 2022: Dom Dolla – Miracle Maker ft. Clementine Douglas (Original Mix)
Best track to play at peak time: NXNJAS x Felguk – Trinity (Original Mix)
Producer(s) and/or vocalist(s) you'd most like to work with: Tiesto & Dua Lipa
Upcoming artist(s) to watch for in 2023: I'm biased but keep an eye out on my aliases, NXNJAS & Neo Toyko 😉
Take a listen to the "New World" album below and give the artists a follow!
Shogun – Facebook / Twitter / Instagram / SoundCloud
Jennifer Rene – Facebook / Twitter / Instagram / SoundCloud
Natalie Gioia – Facebook / Twitter / Instagram / SoundCloud
Shogun – New World (Album) Tracklist:
01. Shogun – New World (Original Mix)
02. Shogun – Cielo (Original Mix)
03. Shogun – Nezuko (Original Mix)
04. Shogun – Under My Skin ft. Jennifer Rene (Original Mix)
05. Shogun – Dreamland (Original Mix)
06. Shogun & Natalie Gioia – Time For Us (Original Mix)
07. Shogun – Cyberpunk (Original Mix)
08. Shogun – Concentration (Original Mix)
09. Shogun – Versace (Original Mix)
10. Shogun – Legend (Original Mix)
11. Shogun – Interstellar (Original Mix)
12. Shogun – Beijing (Original Mix)