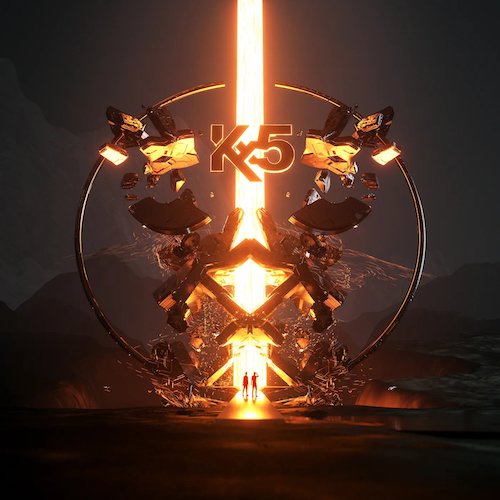 Fourteen years after their first collaboration together called "I Remember" in 2008, Kaskade and deadmau5 officially launched their Kx5 project with "Escape" featuring Hayla in March 2022. One year later, Ryan Raddon and Joel Zimmerman have now released their self titled debut album on mau5trap and Arkade.
The Los Angeles based artist and Toronto based DJ and producer link up with eight other artists on the 10 track album "Kx5". The guys use hypnotizing beats, acid synths, and mesmerizing melodies combined with impressive vocals from all of the artists in various songs from the set.
The album consists of "Alive" featuring The Moth & The Flame, "Sacrifice" with SOFI TUKKER, "Escape" featuring Hayla, "Bright Lights" featuring AR/CO, and "Pwdr Blu" featuring Brother.. Also included are "When I Talk" with Elderbrook, "Eat Sleep" featuring Richard Walters, "Take Me High", "Avalanche" featuring James French, and "Unobsidian".
Last year, the guys played at EDC Las Vegas and a record breaking performance at the Los Angeles Memorial Coliseum. Kx5 can be seen Ultra Music Festival in Miami this weekend and Beyond Wonderland at The Gorge Amphitheatre in Washington in June.
Kx5 – Facebook / Twitter / Instagram / SoundCloud
The Moth & The Flame – Facebook / Twitter / Instagram / SoundCloud
SOFI TUKKER – Facebook / Twitter / Instagram / SoundCloud
Hayla – Facebook / Twitter / Instagram / SoundCloud
AR/CO – Facebook / Twitter / Instagram / SoundCloud
Brother. – Facebook / Twitter / Instagram / SoundCloud
Elderbrook – Facebook / Twitter / Instagram / SoundCloud
Richard Walters – Facebook / Twitter / Instagram / SoundCloud
James French – Facebook / Twitter / Instagram / SoundCloud
Kx5 – Kx5 (Album) Tracklist:
01. Kx5 – Alive ft. The Moth & The Flame (Original Mix)
02. Kx5 & SOFI TUKKER – Sacrifice (Original Mix)
03. Kx5 – Escape ft. Hayla (Original Mix)
04. Kx5 – Bright Lights ft. AR/CO (Original Mix)
05. Kx5 – Pwdr Blu ft. Brother. (Original Mix)
06. Kx5 & Elderbrook  – When I Talk (Original Mix)
07. Kx5 – Eat Sleep ft. Richard Walters (Original Mix)
08. Kx5 – Take Me High (Original Mix)
09. Kx5 – Avalanche ft. James French (Original Mix)
10. Kx5 – Unobsidian (Original Mix)