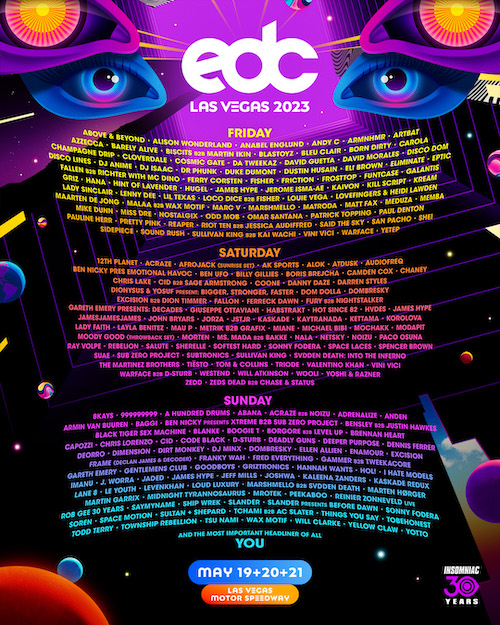 As Insomniac celebrates its 30th anniversary this year, head honcho Pasquale Rotella revealed the EDC Las Vegas 2023 lineup on Thursday. Tickets went on sale in September for the three day festival taking place at the Las Vegas Motor Speedway on Friday May 19, Saturday May 20, and Sunday May 21.
Stages for the 27th edition of Electric Daisy Carnival include Kinetic Field, Cosmic Meadow, Circuit Grounds, Neon Garden, Bass Pod, Wasteland, Quantum Valley, Stereo Bloom, Bionic Jungle, and various roaming Art Cars.
Scheduled to play on Friday May 19 are Above & Beyond, Alison Wonderland, Anabel Englund, Andy C, ARTBAT, Champagne Drip, Eli Brown, Friction, FrostTop, Kill Script, Lil Texas, Meduza, Nostalgix, Odd Mob, Pauline Herr, Pretty Pink, REAPER, Vini Vici, and more.
Set to play at the festival on Saturday May 20 are artists such as 12th Planet, Chris Lake, Darren Styles, Dom Dolla, Dombresky, Ferreck Dawn, Kaskade, Korolova, Lady Faith, Metrik b2b Grafix, Netsky, Noizu, Sonny Fodera, Spencer Brown, Sub Zero Project, Subtronics, Westend, Zeds Dead b2b Chase & Status, and others.
On the decks for Sunday May 21 are A Hundred Drums, Armin Van Buuren, Bensley b2b Justin Hawkes, Blanke, Dimension, Dirt Monkey, Enamour, Goodboys, Griztronics, Hannah Wants, J. Worra, Lane 8, PEEKABOO, Reinier Zonneveld, SLANDER, Soren, Tchami b2b AC Slater, Todd Terry, and more.
EDC Las Vegas – Facebook / Twitter / SoundCloud / Website
Friday May 19 Lineup:
Above & Beyond, Alison Wonderland, Anabel Englund, Andy C, ARMNHMR, ARTBAT, Azzecca, Barely Alive, Biscits b2b Martin Ikin, Blastoyz, Bleu Clair, Born Dirty, Carola, Champagne Drip, Cloverdale, Cosmic Gate, Da Tweekaz, David Guetta, Disco Dom, Disco Lines, DJ Anime, DJ Isaac, Dr Phunk, Duke Dumont, Dustin Husain, Eli Brown, Eliminate, Eptic, Fallen b2b Richter with MC Dino, Ferry Corsten, FISHER, Friction, FrostTop, Funtcase, Galantis, GRiZ, Hana, Hint of Lavender, Hugel, James Hype, Jerome Isma-ae, Kaivon, Kill Script, Kream, Lady Sinclair, Lenny Dee, Lil Texas, Loco Dice b2b FISHER, Louie Vega, Lovefingers + Heidi Lawden, Maarten De Jong, Malaa b2b Wax Motif, Marc V, marshmello, Matroda, Matt Fax, Meduza, MEMBA, Mike Dunn, Miss Dre, Nostalgix, Odd Mob, Omar Santana, Patrick Topping, Paul Denton, Pauline Herr, Pretty Pink, REAPER, Riot Ten b2b Jessica Audiffred, Said The Sky, San Pacho, Shei, SIDEPIECE, Sound Rush, Sullivan King b2b Kai Wachi, Vini Vici, Warface, Yetep
Saturday May 20 Lineup:
12th Planet, ACRAZE, Afrojack (Sunrise Set), AK Sports, ALOK, atDusk, Audiofreq, Ben Nicky presents Emotional Havoc, Ben UFO, Billy Gillies, Boris Brejcha, Camden Cox, Chaney, Chris Lake, CID b2b Sage Armstrong, Coone, Danny Daze, Darren Styles, Dionysus & Yosuf present: Bigger, Stronger, Faster, Dom Dolla, Dombresky, Excision b2b Dion Timmer, Fallon, Ferreck Dawn, Fury b2b Nightstalker, Gareth Emery presents Decades, Giuseppe Ottaviani, Habstrakt, Hot Since 82, HVDES, James Hype, jamesjamesjames, John Bryars, Jorza, JSTJR, Kaskade, Kaytranada, Kettama, Korolova, Lady Faith, Layla Benitez, The Martinez Brothers, Mau P, Metrik b2b Grafix, Miane, Michael Bibi, Mochakk, Modapit, Moody Good (Throwback Set), MORTEN, Ms. Mada b2b Bakke, Nala, Netsky, Noizu, Paco Osuna, Ray Volpe, Rebelion, salute, Sherelle, Softest Hard, Sonny Fodera, Space Laces, Spencer Brown, Suae, Sub Zero Project, Subtronics, Sullivan King, SVDDEN DEATH: Into The Inferno, Tiesto, Tom & Collins, Triode, Valentino Khan, Vini Vici, Warface b2b D-Sturb, Westend, Will Atkinson, Wooli, Yoshi & Razner, Zedd, Zeds Dead b2b Chase & Status
Sunday May 21 Lineup:
8Kays, 999999999, A Hundred Drums, Abana, ACRAZE b2b Noizu, Adrenalize, Anden, Armin Van Buuren, Baggi, Ben Nicky presents Xtreme b2b Sub Zero Project, Bensley b2b Justin Hawkes, Black Tiger Sex Machine, Blanke, Boogie T, Borgore b2b Level Up, Brennan Heart, Capozzi, Chris Lorenzo, CID, Code Black, D-Sturb, Deadly Guns, Deeper Purpose, Dennis Ferrer, Deorro, Dimension, Dirt Monkey, DJ Minx, Dombresky, Ellen Allien, Enamour, Excision, Frame (Declan James & Decoder), Franky Wah, Fred Everything, Gammer b2b Tweekacore, Gareth Emery, Gentlemens Club, Goodboys, Griztronics, Hannah Wants, HOL!, I Hate Models, Imanu, J. Worra, Jaded, James Hype, Jeff Mills, Joshwa, Kaleena Zanders, Kaskade Redux, Lane 8, Le Youth, Levenkhan, Loud Luxury, marshmello b2b SVDDEN DEATH, MARTEN HØRGER, Martin Garrix, Midnight Tyrannosaurus, Mrotek, PEEKABOO, Reinier Zonneveld (Live), Rob Gee 30 Years, SAYMYNAME, Ship Wrek, SLANDER, Sonny Fodera, Soren, Space Motion, Sultan + Shepard, Tchami b2b AC Slater, Things You Say, TOBEHONEST, Todd Terry, Township Rebellion, Tsu Nami, Wax Motif, Will Clarke, Yellow Claw, Yotto