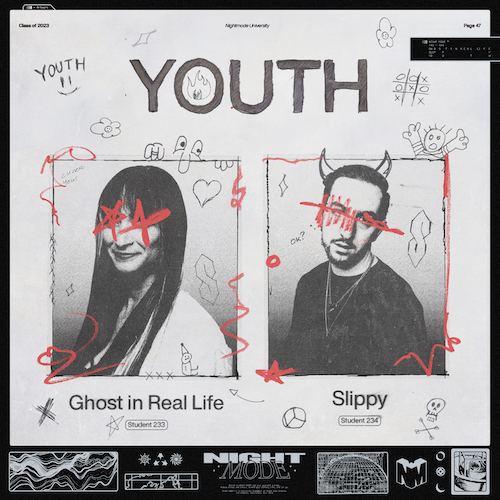 Teaming up on a drum and bass heater are Ghost In Real Life and Slippy on "Youth". The two artists blend electric guitar riffs with growling synths, while adding in Ghost In Real Life's punk rock vocals as the icing on the cake (check out some photos of her singing in a punk band back in the day!). The track was put out by NIGHTMODE, the record label launched in 2019 by Tucker (Jericho) Boner and Daniel Goudie which is part of Insomniac Music Group.
"Growing up, I went to a lot of punk shows, listened to punk music, and was even in a punk band," says Ghost In Real Life. "When I was writing the lyrics with Shep and producing the track, I wanted to truly embody what my past sounded like and blend it with my future. Adding Slippy on brought the track to its true DnB potential. Definitely one of my favorite collabs yet."
Slippy shares that "When Maggie sent 'Youth' over for me to check out, I immediately knew it was a song I wanted to be a part of. This track has so much raw energy in the lyrics that I think a lot of us can relate to. It's been killing it in both of our sets for the past six months and I'm stoked to finally have it out in the world!"
Los Angeles based Maggie Beltran studied audio engineering and production at Berklee College of Music. Previous tunes of hers to check out include her dnb flip of "Say What" by G Jones and ISOxo, "Metamorphosis", and "Bloodhound".
Also based in Los Angeles, Alex Swartwout started the Slippy project in 2015 and has seen his songs on labels like Welcome Records, Jadu Dala, and Monstercat. He first caught my attention in 2021 with his flip of "Save The World" by Swedish House Mafia, with recent tracks of his including "Nobody / White Noise" EP and "Vessels".
Ghost In Real Life – Facebook / Twitter / Instagram / SoundCloud
Slippy – Facebook / Twitter / Instagram / SoundCloud