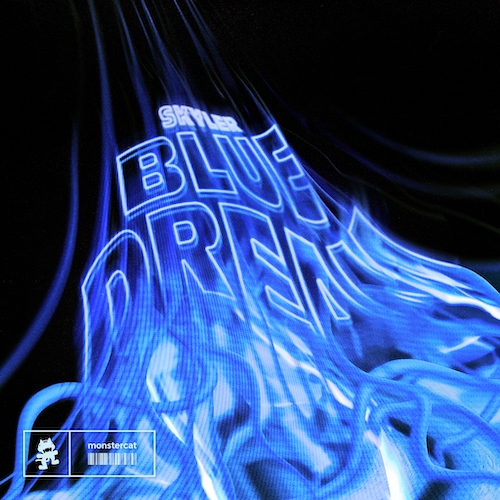 After releasing a few tracks from her "Blue Dream" EP since January, the full set from SKYLER has officially been released from Canadian record label Monstercat. The future trap EP by Los Angeles based Vanessa Behrens includes "Chrome Hearts", "Hit My Line", "Fix Me", "Haunt You", and "Fall".
Read on for an interview with SKYLER as she talks about how she would describe her sound in three animals, how starting out as a DJ helped her in producing, the inspiration behind the EP, and more!
Hey SKYLER! We're just about halfway through the year, how has 2023 been for you so far?
2023 has been a busy one to say the least! I've been grinding in the studio more so now than ever to really expand on my sound and catalog for next year. I've been laser focused SKYLER – Blue Dream EP on my rebrand, experimenting with new sounds as well as wrapping up the rest of my collabs that I have in the works as well!
How would you describe your sound in three animals, and why those animals?
I'd have to go with a black panther, a jellyfish and a raven. I choose these animals because I think they can represent elements such as captivating beauty, euphoria as well as dark and mysterious which are all small elements I try to layer within my music.
I read that you first started out as an open format DJ before branching into producing. How has that experience helped you in your career and in making your own tracks?
Starting out as a DJ really gave me the basic understanding of song structure and flow within writing my own music. I figured out all the bpms and keys that I most enjoyed playing out and mixing live and just applied that to my own tracks. I'd say in my career overall, it's given me the capabilities of how to navigate the energy in any room or venue, the importance of crate digging and keeping up to date with new music/inspo as well as how to build out an effective set.
You were previously known as Skyler Madison (when I wrote about your "Iridescent" EP in 2021) before changing to SKYLER earlier this year. What prompted the new direction?
To me, Skyler Madison felt like an old version of myself back to when I was still touring as a club DJ. So the transition to SKYLER felt like I was shedding an old skin and embracing myself into the artist that I felt that I have truly grown into.
"Blue Dream" is the title of your new EP that was just released on Monstercat. What originally inspired you to create the EP?
I felt like I really wanted to create a body of work that captivated real time emotions, experiences as well as the growth in my sound and artistry— thus the Blue Dream EP was conceived.
What was the most challenging part in producing the five songs?
I'd say probably leaving them alone and keeping them as finished projects haha. I have a bad habit over time where I just keep finding and wanting to tweak small things instead of leaving them alone and moving on completely.
The EP includes a collaboration with Josh Rubin called "Fix You". How did you connect with him initially and what was the creative process like going back and forth?
We initially got connected through a former manager who sent over a playlist of demo's I had to Josh and his team. The initial song that was toplined I actually ended up re-writing a few different times and by the 3rd time it finally came together as you hear it today. Josh was great to work with and an incredible talent!
What does the rest of 2023 have in store for SKYLER?
I have a few shows in store that I'm really excited for to end the year with as well as a couple more releases that I have in the works after the EP! So be sure to stay tuned!
Favorite song of 2023 so far: That's tough…hmm I don't think I have one say all favorite song but I can say a lot of my favorite songs this year have been from:
Skrillex: Leave Me Like This with Bobby Raps, Butterflies with Starrah and Four Tet, Baby Again.. with Fred again.. and Four Tet
Juelz: THE POWER! & Moondance (Move Together) ft. XAELO
SZA: Ghost in the Machine ft. Phoebe Bridges & Low
Lana Del Rey: Say Yes To Heaven
Lil Yachty: The Ride-
Best track to play at peak time: I'd say dashstar* by Knock2, Where You Are by John Summit and Hayla, or Push Up by Creeds will always crank up the energy to a 10 in any crowded room or fest during peak time.
Producer(s) and/or vocalist(s) you'd most like to work with: fknsyd, Hex Cougar, Juelz, and Heimanu would have to be a few of my top picks for sure!
Upcoming artist(s) to watch for in 2023: Some really talented and upcoming artists that have been on my radar to watch for are Altare, Sublab, Drayvn, cab, W IN K, So Sus, BROKN, Bafu, and Ivoryghost to name a few!
Take a listen to the "Blue Dream" EP below and give SKYLER a follow!
SKYLER – Facebook / Twitter / Instagram / SoundCloud
Josh Rubin – Facebook / Twitter / Instagram / Soundcloud
SKYLER – Blue Dream EP Tracklist:
01. SKYLER – Chrome Hearts (Original Mix)
02. SKYLER – Hit My Line (Original Mix)
03. SKYLER & Josh Rubin – Fix Me (Original Mix)
04. SKYLER – Haunt You (Original Mix)
05. SKYLER – Fall (Original Mix)