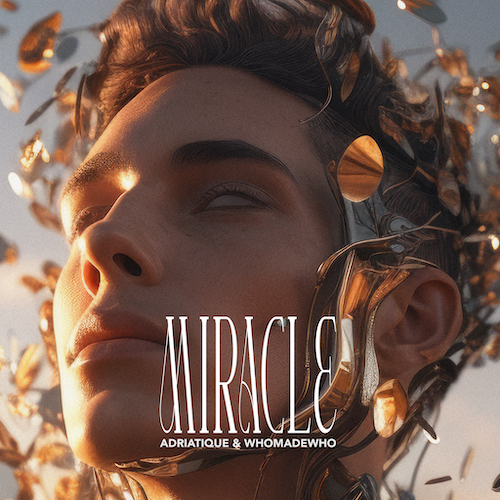 With the last track during their Tomorrowland performance in Belgium a few months ago, Adriatique closed out their set with their new melodic house and techno tune called "Miracle" with WhoMadeWho. The collaboration between the Swiss duo and Danish trio features atmospheric melodies and swelling synths combined with sublime vocals. The tune was released through RÜFÜS DU SOL's Rose Avenue Records, which was launched in 2018 in Los Angeles.
Adriatique states that "Good things come to those who wait" is normally not the right quote when making music but in the case of Miracle it is true. This was one of the projects which had given us an immediate excitement but ultimately it took time to make it what it is today. Thanks to the very talented WhoMadeWho and everyone involved in this collaboration."
"With heartfelt gratitude, we join hands with Adriatique for our upcoming single 'Miracle'," say WhoMadeWho. "Our deepest thanks go out to Rose Avenue for giving us the platform to share this unique creation with the world. 'Miracle' is a tribute to that extraordinary feeling you might experience while looking into the eyes of your most beloved. When you connect on a deeper level. When everything makes sense. You are invincible and nothing can harm you."
Supporters of the song include DJs such as Armin van Buuren, Tiesto, Fatum, Brina Knauss, Hernan Cattaneo and Nick Warren, Pete Tong, TCTS, and Sister Bliss.
Zurich based Adrian Shala and Adrian Schweizer, who first met in 2008, have have two perforamnces for Cercle: in 2018 at Signal 2108 in Alpe d'Huez in the French Alps and earlier this year in March at Hatshepsut Temple in Luxor, Egypt.
Copenhagen natives Tomas Høffding, Tomas Barfod, and Jeppe Kjellberg, who have been together since 2003, have also played for French livestream media company Cercle, with their live set in 2021 coming from the temples of Abu Simbel in Egypt.
Adriatique – Facebook / Twitter / Instagram / SoundCloud
WhoMadeWho – Facebook / Twitter / Instagram / SoundCloud