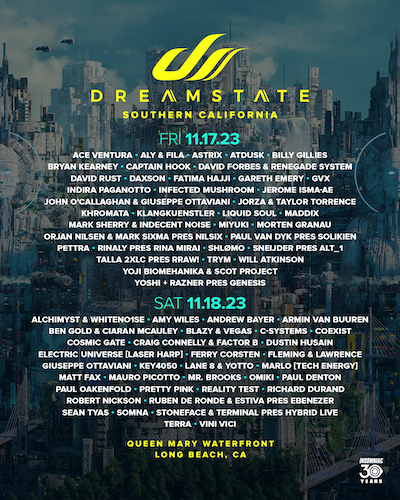 Dreamstate Southern California 2023 will be taking place on Friday November 17 and Saturday November 18 at the Queen Mary Waterfront in Long Beach. Fans will be able to see their favorite trance artists on stages such as The Dream, The Vision, The Sequence, and The Void.
Scheduled to perform on Friday November 17 are Ace Ventura, Astrix, Bryan Kearney, Captain Hook, David Forbes & Renegade System, Gareth Emery, Infected Mushroom, John O'Callaghan & Giuseppe Ottaviani, Liquid Soul, Mark Sherry & Indecent Noise, Will Atkinson, and more.
On the decks for Saturday November 18 are Andrew Bayer, Armin van Buuren, Cosmic Gate, Ferry Corsten, Fleming & Lawrence, Lane 8 & Yotto, Matt Fax, Paul Oakenfold, Reality Test, Sean Tyas, Vini Vici, and others.
Single day tickets are available starting tomorrow Thursday September 21 at 12:00pm in the form of GA Experience (general admission) and VIP Elevated Experience.
Dreamstate – Facebook / Twitter / Instagram / Website
Dreamstate Southern California 2023 Friday November 17 Lineup:
Ace Ventura, Aly & Fila, Astrix, atDusk, Billy Gillies, Bryan Kearney, Captain Hook, David Forbes & Renegade System, David Rust, Daxson, Fatima Hajji, Gareth Emery, GVX, Indira Paganotto, Infected Mushroom, Jerome Isma-ae, John O'Callaghan & Giuseppe Ottaviani, Forza & Taylor Torrence, Khromata, KlangKuenstler, Liquid Soul, Maddix, Mark Sherry & Indecent Noise, Miyuki, Morten Granau, Orjan Nilsen & Mark Sixma pres nilsix, Paul van Dyk pres Solikien, Pettra, Rinaly pres Rina Mirai, Shlømo, Sneijder pres Alt_1, Talla 2XLC pres RRAW!, TRYM, Will Atkinson, Yoji Biomehanika & Scot Project, Yoshi + Razner pres Genesis
Dreamstate Southern California 2023 Saturday November 18 Lineup:
Alchimyst & WHITENO1SE, Amy Wiles, Andrew Bayer, Armin van Buuren, Ben Gold & Ciran McCauley, Blazy & Vegas, C_Systems, Coexist, Cosmic Gate, Craig Connelly & Factor B, Dustin Husain, Electric Universe [Laser Harp], Ferry Corsten, Fleming & Lawrence, Giuseppe Ottaviani, Key4050, Lane 8 & Yotto, Marlo [Tech Energy], Matt Fax, Mauro Picotto, Mr. Brooks, Omiki, Paul Denton, Paul Oakenfold, Pretty Pink, Reality Test, Richard Durand, Robert Nickson, Ruben de Ronde & Estiva pres Ebenezer, Sean Tyas, Somna, Stoneface & Terminal pres Hybrid Live, Terra, Vini Vici