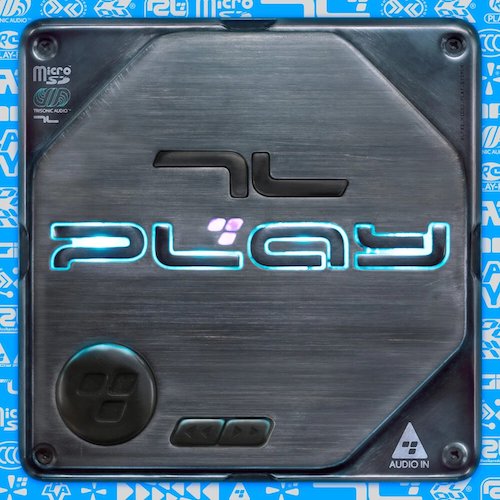 If you've listened to RL Grime's 2022 Halloween XI: Dead Space mix, 2021 Halloween X mix, 2020 Halloween IX mix, or have been to one of his festival appearances at Shambhala, Second Sky, HARD Summer, Countdown NYE over the past couple of years, chances are you've heard a few songs from his new album "Play". Twenty one tracks are included in the collection, which are broken down into three sections with seven songs each: Apex, Grid, and Rush.
Los Angeles based DJ and producer Henry Steinway runs through a number of genres in the set, including trap, deep house, drum and bass, techno, breakbeat, UK garage, and more. It was released on his own record label Sable Valley, which he founded in 2019.
Apex starts off with "Ultrawide", "NME" with JAWNS, "Zone", "Jewel" with ISOxo, "Runner", "Breach" with Juelz, and "Delta".
Grid includes "Keep You (Close)", "Borderline" with Montell 2099 featuring EMELINE, "Street Sweeper" featuring 1nonly, "Lose My Mind" featuring Reo Cragun, "Slow Dive" featuring Bea Miller, "Pour Your Heart Out" featuring 070 Shake, and "I Am The Ocean" with Sublab and Baauer featuring Noomi.
Rush consists of "I Think I'm Getting Emotional", "Metro North", "Push", "Howling Fjord", "Around Me", "Hikari", and "The Afterglow."
Songs from the album have been supported by the likes of Diplo, Flosstradamus, Alison Wonderland, Judge Jules, Zeds Dead, Dillon Francis, The Chainsmokers, ARMNHMR, Diesel, Illenium, Tiesto, Valentino Khan, NGHTMRE and SLANDER, Dabin, Ekali, and Party Favor.
RL Grime will be launching his Play Live tour with support from JAWNS and 33 Below on Thursday October 26 at Gallagher Square at Petco Park in San Diego and finishing up on Friday November 24 at Toyota Arena in Ontario.
RL Grime – Facebook / Twitter / Instagram / SoundCloud
JAWNS – Facebook / Twitter / Instagram / SoundCloud
ISOxo – Facebook / Twitter / Instagram / SoundCloud
Juelz – Facebook / Twitter / Instagram / SoundCloud
Montell2099 – Facebook / Twitter / Instagram / SoundCloud
EMELINE – Facebook / Twitter / Instagram / SoundCloud
1nonly – Facebook / Twitter / Instagram / SoundCloud
Reo Cragun – Facebook / Twitter / Instagram / SoundCloud
Bea Miller – Facebook / Twitter / Instagram / SoundCloud
070 Shake – Facebook / Twitter / Instagram / SoundCloud
Sublab – Facebook / Twitter / Instagram / SoundCloud
Baauer – Facebook / Twitter / Instagram / SoundCloud
Noomi – Facebook / Twitter / Instagram / SoundCloud
RL Grime – Play (Album) Tracklist:
01. RL Grime – Play Apex
02. RL Grime – Ultawide (Original Mix)
03. RL Grime & JAWNS – NME (Original Mix)
04. RL Grime – Zone (Original Mix)
05. RL Grime & ISOxo – Jewel (Original Mix)
06. RL Grime – Runner (Original Mix)
07. RL Grime & Juelz – Breach (Original Mix)
08. RL Grime – Delta (Original Mix)
09. RL Grime – Play Grid
10. RL Grime – Keep You (Close) (Original Mix)
11. RL Grime & Montell2099 – Borderline ft. EMELINE (Original Mix)
12. RL Grime – Street Sweeper ft. 1nonly (Original Mix)
13. RL Grime – Lose My Mind ft. Reo Cragun (Original Mix)
14. RL Grime – Slow Dive ft. Bea Miller (Original Mix)
15. RL Grime – Pour Your Heart Out ft. 070 Shake (Original Mix)
16. RL Grime, Sublab, & Baauer – I Am The Ocean ft. Noomi (Original Mix)
17. RL Grime – Play Rush
18. RL Grime – I Think I'm Getting Emotional (Original Mix)
19. RL Grime – Metro North (Original Mix)
20. RL Grime – Push (Original Mix)
21. RL Grime – Howling Fjord (Original Mix)
22. RL Grime – Around Me (Original Mix)
23. RL Grime – Hikari (Original Mix)
24. RL Grime – The Afterglow (Original Mix)