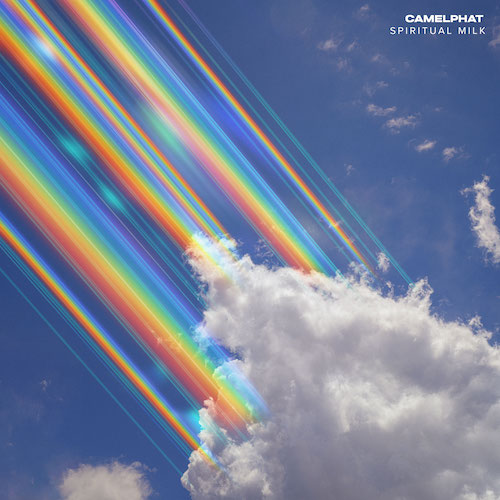 Near the end of 2020, CamelPhat released their debut 21 track album titled "Dark Matter". Nearly two years later, the British duo have revealed another collaboration heavy collection in "Spiritual Milk". Liverpool natives Dave Whelan and Mike Di Scala released the set from their record label When Stars Align, which they started in October 2022.
"We've felt a lot less pressure delivering this record possibly due to the fact it's on our label (WSA), but also we're at a point in our career where we can possibly afford to be more expressive and less fearful about what other people think," share CamelPhat. "It has definitely come from the heart and feels honest both as writers and musicians. We've had fun with it; we've made music less with the dance floor in mind and more with our emotions. The whole thing came together surprisingly very easily. "Spiritual Milk" is a listening album that takes your mind away from everyday life. The name itself has captured the overall essence of the album perfectly. Take the trip & enjoy the ride."
The album from the Grammy nominated pair consists of "Hope" with Max Milner, "Rennen" with SOHN, "Home" with RHODES, "The Sign" with Anyma, "Compute" with Ali Love (which samples Kraftwerk's 1981 iconic track "Computer Love"), "Many Times" with Mathame and Frýnn, "In Your Eyes", and "Turning Stones" with SOHN.
Also included are "Primavera" with PPJ, "Bloom", "Colossus" with Kölsch, "Embers" with Shimza and Julia Church, "Rain" with Desire, "What A Day" with Eynka and Delilah Montagu, "Higher" with London Grammar, and "Love Is Something" with Jake Bugg.
The album artwork was created by New York based multidisciplinary artist c-nik, also known as Niko Christian, who is "working to create peace from chaos in surreal arcs of light, life, and time and developing the idea that you can touch heaven from anywhere."
CamelPhat – Facebook / Twitter / Instagram / SoundCloud
Max Milner – Facebook / Twitter / Instagram / SoundCloud
SOHN – Facebook / Twitter / Instagram / SoundCloud
RHODES – Facebook / Twitter / Instagram / SoundCloud
Anyma – Facebook / Twitter / Instagram / SoundCloud
Ali Love – Facebook / Twitter / Instagram / SoundCloud
Mathame – Facebook / Twitter / Instagram / SoundCloud
Frýnn – Facebook / Twitter / Instagram / SoundCloud
PPJ – Facebook / Twitter / Instagram / SoundCloud
Kölsch – Facebook / Twitter / Instagram / SoundCloud
Shimza – Facebook / Twitter / Instagram / SoundCloud
Julia Church – Facebook / Twitter / Instagram / SoundCloud
Desire – Facebook / Twitter / Instagram / SoundCloud
Eynka – Facebook / Twitter / Instagram / SoundCloud
Delilah Montagu – Facebook / Twitter / Instagram / SoundCloud
London Grammar – Facebook / Twitter / Instagram / SoundCloud
Jake Bugg – Facebook / Twitter / Instagram / SoundCloud
CamelPhat – Spiritual Milk (Album) Tracklist:
01. CamelPhat & Max Milner – Hope (Spiritual Milk Edit)
02. CamelPhat & SOHN – Rennen (Original Mix)
03. CamelPhat & RHODES – Home (Original Mix)
04. CamelPhat & Anyma – The Sign (Spiritual Milk Edit)
05. CamelPhat & Ali Love – Compute (Original Mix)
06. CamelPhat, Mathame, & Frynn – Many Times (Original Mix)
07. CamelPhat – In Your Eyes (Original Mix)
08. CamelPhat & SOHN – Turning Stones (Original Mix)
09. CamelPhat & PPJ – Primavera (Re-Edit)
10. CamelPhat – Bloom (Original Mix)
11. CamelPhat & Kölsch- Colossus (Original Mix)
12. CamelPhat, Shimza, & Julia Church – Embers (Original Mix)
13. CamelPhat & Desire – Rain (Original Mix)
14. CamelPhat, Eynka, Delilah Montagu – What A Day (Original Mix)
15. CamelPhat & London Grammar – Higher (Original Mix)
16. CamelPhat & Jake Bugg – Love Is Something (Original Mix)