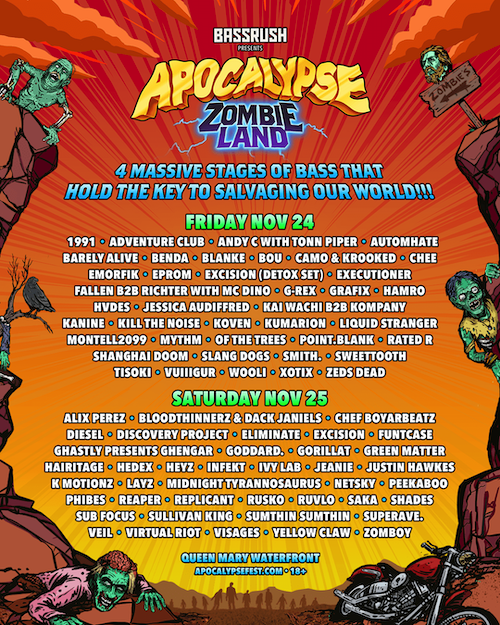 Bass music fans will unite at Apocalypse: Zombieland 2023 taking place on Friday November 24 and Saturday November 25 at the Queen Mary Waterfront in Long Beach. Presented by Insomniac's Bassrush brand, the four stages will host dubstep, drum and bass, trap, and everything in between!
Friday November 24 will see the likes of 1991, Andy C with Tonn Piper, Blanke, EPROM, Fallen b2b Richter with MC Dino, Grafix, Kill The Noise, Koven, Liquid Stranger, Montell2099, Shanghai Doom, and Zeds Dead.
On the schedule for Saturday November 25 are Alix Perez, Eliminate, Excision, Hairitage, Ivy Lab, Justin Hawkes, Netsky, PEEKABOO, Phibes, REAPER, Sub Focus, and Zomboy.
Single day tickets in the form of GA Experience (general admission) and VIP Elevated Experience tickets are currently available.
Apocalypse – Facebook / Twitter / Instagram / Website
Apocalypse: Zombieland 2023 Friday November 24 Lineup:
1991, Adventure Club, Andy C with Tonn Piper, Automhate, Barely Alive, Benda, Blanke, Bou, Kamo & Krooked, Chee, Emorfik, EPROM, Excision (Detox Set), Executioner, Fallen b2b Richter with MC Dino, G-REX, Grafix, Hamro, HVDES, Jessica Audiffred, Kai Wachi b2b Kompany, Kanine, Kill The Noise, Koven, Kumarion, Liquid Stranger, Montell2099, MYTHM, Of The Trees, Point.Blank, Rated R, Shanghai Doom, Slang Dogs, Smith., SweetTooth, Tisoki, Vuiiigur, Wooli, Xotix, Zeds Dead
Apocalypse: Zombieland 2023 Saturday November 25 Lineup:
Alix Perez, BloodThinnerz & Dack Janiels, Chef Boyarbeatz, Diesel, Discovery Project, Eliminate, Excision, FuntCase, Ghastly presents Ghengar, Goddard., Gorillat, Green Matter, Hairitage, Hedex, Heyz, Infekt, Ivy Lab, Jeanie, Justin Hawkes, K Motionz, Layz, Midnight Tyrannosaurus, Netsky, PEEKABOO, Phibes, REAPER, Replicant, Rusko, Ruvlo, Saka, Shades, Sub Focus, Sullivan King, sumthin sumthin, Superave., Veil, Virtual Riot, Visages, Yellow Claw, Zomboy