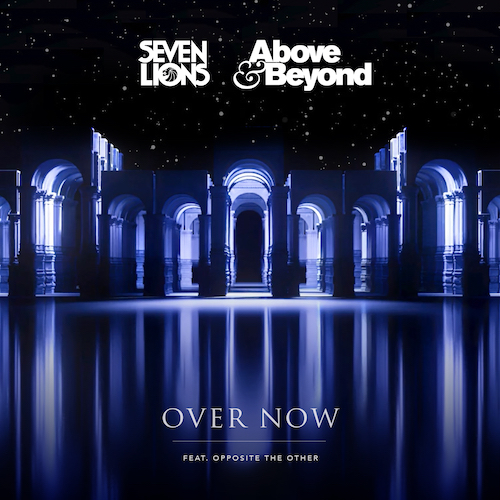 In July 2019, Above & Beyond and Seven Lions teamed up with Opposite The Other on an anthemic song called "See The End". Four years later, the guys all come together once again on an equally powerful tune titled "Over Now", released by Anjunabeats. Be sure to check out the music video below, which was filmed live at The Gorge Amphitheatre in Washington at Group Therapy Weekender in July!
"The initial lyrical idea for the song actually came to me near the end of the pandemic," explains Opposite The Other. "Like many others, I was in a dark place for so many reasons. The truth hit me that no matter how good or bad a situation is, there will always be an ending. This song is about the hope that the light at the end of the tunnel will arrive sooner rather than later. Working with Above & Beyond and Seven Lions once again has been the biggest joy, and I'm super excited to see how this song resonates with people".
Above & Beyond played the collaboration during their set at EDC Las Vegas on the Circuit Grounds stage in May, and more recently at Aly & Fila's Future Sound Of Egypt 800 The Homecoming at The Great Pyramids of Giza in Egypt. They also played the tune during their radio show Group Therapy 547.
Early support of the song has come from the likes of Armin van Buuren, Markus Schulz, Farius, and Bobina.
Other tracks of Seattle based artist Jeff Montalvo to check out include "Arcturus" with REZZ, "Pantheon" with Blastoyz, Dimibo, Jason Ross, Kill The Noise, Trivecta, and Wooli, and "Shadows" with Wooli and AMIDY.
Past favorites of mine from the London trio of Jono Grant, Tony McGuinness, and Paavo Siljamäki include "Always Do" with Mat Zo, "Screwdriver", and their deep mix of their track "Almost Home" with Justine Suissa
Cape Town, South Africa native Sam Burger has shared the stages with the likes of Bastille, The Lumineers, The Cure, Calum Scott, and more.
Seven Lions – Facebook / Twitter / Instagram / SoundCloud
Above & Beyond – Facebook / Twitter / Instagram / SoundCloud
Opposite The Other – Facebook / Twitter / Instagram / SoundCloud