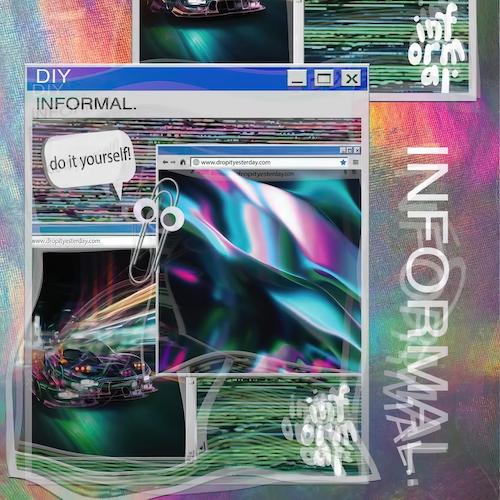 A few weeks ago, informal. posted a clip of a track he was working on at the moment. The song picked up traction in the short amount of time and two weeks after it was first posted, "DIY" was officially released. The Los Angeles based artist uses bouncy beats and reworked piano samples in his new song from Casual Recordings.
Sam Richie says that "The whole creation process of 'DIY' was very much a 'let's just try anything and see what happens' approach. There was no real vision from the start, especially for the newer sections. But, when I began constructing the more aggressive drop, it all quickly fell into place. I sort of zoned out (or in lol) for about 3 hours and, before I knew it, the song was essentially done—it was definitely a flow state moment."
He continues "When the views started coming in, I could hardly believe it. First it was at 50k and I thought, 'woah, that's the best performing video I've ever had!!' but then it just never stopped. It was all really overwhelming. I'm so grateful for all of the new traction. I've been working so hard for so long, putting out tons of music, marketing that music, trying everything I can, every day. So to finally have a larger audience to connect with feels really good. I've always said that if I could just sit down with someone for 5 minutes and play them my music, explain the 'informal.' mantra, and show them how passionate I am about it, they would love it! And now I feel like I've really gotten that opportunity."
In August 2022, informal. first appeared on my radar with his six track "informal. beach club" EP. Last month, he released a four song EP called "its not that serious".
informal. – Facebook / Twitter / Instagram / SoundCloud