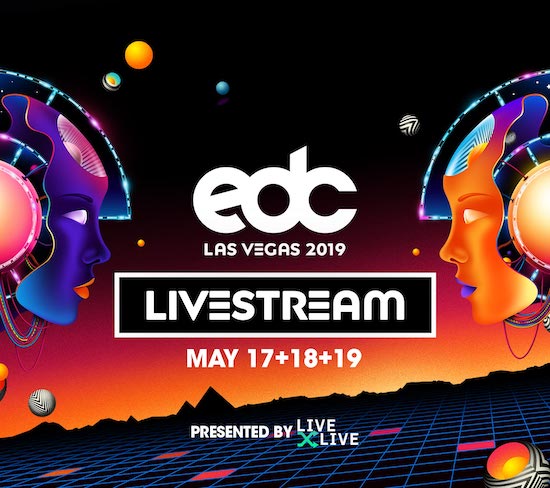 In just about two hours, EDC Las Vegas 2019 will kick off at the Las Vegas Motor Speedway. For those who are unable to be Under The Electric Sky this weekend, Insomniac will begin its live stream presented by LiveXLive of the three day festival at 6:45pm PT. There will be four channels to choose from this year, including:
Channel 1: Specially curated content and behind-the-scenes looks, exclusive artist interviews, and performances from kineticFIELD, cosmicMEADOW and circuitGROUNDS. In addition, select artists from other stages, art cars and Camp EDC will be featured
Channel 2: Full sets from kineticFIELD
Channel 3: Full sets from cosmicMEADOW
Channel 4: Full sets from circuitGROUNDS
"Feeling the FOMO? Now you don't have to! With the EDC Las Vegas 2019 Livestream, you'll practically be there in person, living the experience to the fullest. From our eight iconic stages featuring the top names in dance music, to the colorful roaming art cars, fire-breathing art installations and captivating carnival rides, to our beloved Funkdafied Freaks and hundreds of thousands of smiling Headliners roaming the Speedway, you'll be transported right into the heart of the festival. Join us at home or on the go, from any corner of the world!"
Catch the EDC Las Vegas live stream all weekend long right here!
EDC Las Vegas – Facebook / Twitter / Soundcloud / Website
Friday May 17 Chanel 1: All Stages
Friday May 17 Channel 2: kineticFIELD
Friday May 17 Chanel 3: cosmicMEADOW
Friday May 17 Channel 4: circuitGROUNDS
Saturday May 18 Channel 1: All Stages
Saturday May 18 Channel 2: kineticFIELD
Saturday May 18 Channel 3: cosmicMEADOW
Saturday May 18 Channel 4: circuitGROUNDS
Sunday May 19 Channel 1: All Stages
Sunday May 19 Channel 2: kineticFIELD
Sunday May 19 Channel 3: cosmicMEADOW
Sunday May 19 Channel 4: circuitGROUNDS