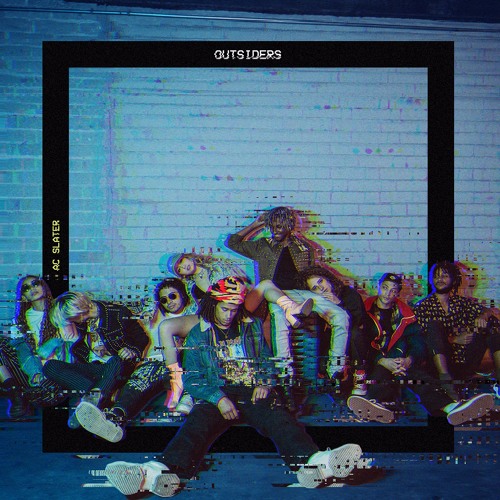 AC Slater's debut album called "Outsiders" has been released from his own label Night Bass Records. Los Angeles native Aaron Clevenger collaborates with 14 artists across the 11 tracks included in the set. A couple of my favorites are "Dealer" with Tchami and Rome Fortune, "Dope Slinger" with Chris Lorenzo, and "Grime House".
"After a long career in the world of underground dance music dating back to the early 2000s, years of experiences and navigating through different music scenes have culminated in Outsiders, AC Slater's forthcoming debut full-length album. Since the launch of his Night Bass event, record label and brand, AC has managed to create his own sub-community within the world of dance music. Outsiders captures Slater's position on the fringe of the music industry and even within the underground scene itself while simultaneously crossing over into mainstream music. The title resonates to the collaborators featured on the album as well, who could potentially all be labeled as outsiders and innovators in their own right."
He'll also be starting his Outsiders North American Tour this week, with stops at El Rey in Los Angeles on Friday, December 8th and at Bang Bang in San Diego on Thursday, December 14th.
AC Slater – Facebook / Twitter / Soundcloud
AC Slater – Outsiders Tracklist:
01. AC Slater – Ring the Alarm ft. Sinden & Young Lyxx
02. AC Slater – Dealer ft. Tchami & Rome Fortune
03. AC Slater – Another You ft. Kaleena Zanders
04. AC Slater – Misfits ft. Herve & Purple Velvet Curtains
05. AC Slater – Taking Off ft. Shoffy
06. AC Slater & Chris Lorenzo – Dope Slinger [Free Download]
07. AC Slater – Come Back ft. Shift K3Y
08. AC Slater – Jaws ft. Acid Mouth
09. AC Slater – All About Paper ft. Bassboy & Scrufizzer
10. AC Slater – Grime House
11. AC Slater – Big Riddim ft. Jamakabi