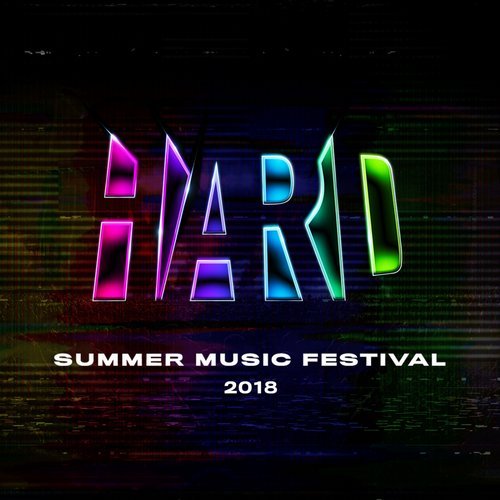 HARD Summer 2018 is taking place this weekend, and HARD Events have announced a new label called HARD Recs to go with a compilation album to get you ready for the festival. The HARD Summer 2018 compilation album is composed of 18 tracks from well known artists as well as up and coming producers playing across the six stages.
Included in the album are tunes from Dillon Francis, KRANE and Hanz, Getter, Valentino Khan, Bear Grills, k?d, Zeds Dead and Jauz, LOUDPVCK and KillaGraham, and SAYMYNAME. JSTJR, Ekali and Medasin, Sage Armstrong and OMNOM, Party Favor and Baauer, Manila Killa, Ducky, Kai Wachi, Borgore and Svdden Death, and Sullivan King also have their songs in the compilation as well.
The HARD Summer 2018 Official Mixtape Series has also been going strong since the beginning of June, with 21 mixes under its belt so far. Loud Luxury, Slushii, SAYMYNAME, Hekler, Brownies & Lemonade All Stars, Sacha Robotti, and other DJs have thrown down some of their favorites tracks, as well as a few IDs that might be heard this weekend.
The two day festival will take place on Saturday, August 4th and Sunday, August 5th at the Auto Club Speedway in Fontana. The set up will include "brand-new stage designs and layout, all inside the Speedway and on grass; improved logistics, courtesy of Insomniac's teams; more health and safety services and amenities; improved venue entrance, parking, and traffic logistics; and enhanced VIP experiences."
Tickets for the 18+ event are still available, along with shuttle passes, premier parking, and a Hard Summer 2018 Collectible Vinyl Album.
HARD – Facebook / Twitter / Soundcloud / Website
HARD Recs – HARD Summer 2018 Tracklist:
01. Dillon Francis – BaBaBa (Vete Pa Ya) ft. Young Ash (Original Mix)
02. KRANE & Hanz – Momentum (Original Mix)
03. Getter – Colorblind (Original Mix)
04. Valentino Khan – Lick It (Original Mix)
05. Bear Grillz – Take Me Away (Original Mix)
06. k?d – A.I. (Original Mix)
07. Zeds Dead & Jauz – Lights Go Down (Original Mix)
08. LOUDPVCK & KillaGraham – Liar (Original Mix)
09. SAYMYNAME – Don't Stop (Original Mix)
10. JSTJR – Tiguere ft. Jenn Morel (Original Mix)
11. Ekali & Medasin – Forever ft. Elohim (Original Mix)
12. Sage Armstrong & OMNOM – WAIT… (I Think I Lost My Mind) (Original Mix)
13. Party Favor X Baauer – MDR (Original Mix)
14. Manila Killa – Everyday, Everyday ft. Nevve (Original Mix)
15. Ducky – Down Low (Original Mix)
16. Kai Wachi – Bodied (Original Mix)
17. Borgore & Svdden Death – Svddengore (Original Mix)
18. Sullivan King – Run For Your Life (Original Mix)